The latest product releases and insights from around the world.
ADJ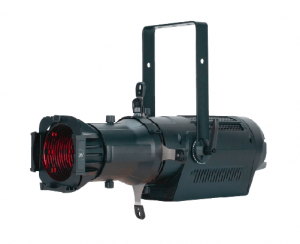 The Encore Profile Pro WW features a potent 260W warm white LED light source with a colour temperature of 3200K. It generates an even field of light, with no hot spot, and boasts a high CRI in excess of 97. When used with a 26° lens, it measures a total light output of 10,000 lumens, while the LED engine has an average lifespan of 50,000 hours. The Encore Profile Pro Color utilises a 250W 6-in-1 RGBWAL LED engine, which also boasts a 50,000-hour average operational life. 
Through independent dimming control of the red, green, blue, white, amber and lime LED elements, this fixture can be used to generate a gamut of colours ranging from primaries to subtle hues. The fixture has a light output of 6,000 lumens, measured with a 26° lens, and offers a CRI in excess of 90.
ADJ's complementary EP range of high-quality ellipsoidal lenses feature precision designed and engineered optics to deliver excellent sharpness and an even field. Fixed lens tubes with beam angles of 14°, 19°, 26°, 36° and 50° are available. The Encore Profile Pro WW and Encore Profile Pro Color, as well as the EP range of lens tubes, are shipping now from ADJ distributors and dealers worldwide.
Brompton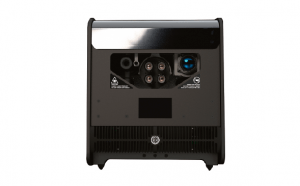 The Hydra is a measurement system custom-designed for LED panels fitted with a Tessera R2 receiver card. Panels must be measured with Hydra to benefit from Dynamic Calibration. Investors in the Hydra system will benefit from the system's minimal setup time, comprehensive error checks and its ability to generate reports in multiple languages to give an objective assessment of panel performance. This makes it straightforward to confirm that each new batch of panels meets individual specifications and reduces the potential for user error.
Elation Professional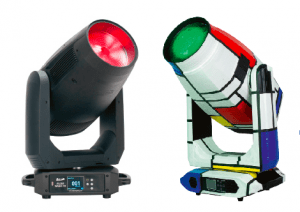 The Fuze Wash FR (pictured left) features a new 480W (6,500K) 92 CRI engine that utilises a five-colour homogenised LED array of red, green, blue, mint and amber sources. The specially designed Fresnel lens delivers a smooth and even wash and houses an 8.2° to 42.1° beam and 12.7° to 62.1° field motorised zoom for tight to wide coverage. A full blackout framing system with four rotating blades gives full control of the beam shape when required and can index +/- 60°. 
A variable frost filter can be added at any time for an extra layer of smoothing. The fixture dims seamlessly all the way to zero with 16-bit selectable dimming curves included. An iris for advanced beam control and high-speed electronic shutter and strobe rounds out its feature set.
The Artiste Mondrian (pictured right) harnesses a long-throw power from a 950W 6,500K White Hotspot LED engine. The custom peak-field LED engine, a first of its kind, features a two-to-one centre to edge LED ratio for more powerful, high centre intensity beam and wash throws while allowing for more unique air FX. 
With light bursting through a custom-designed 226mm Plano Convex lens, dubbed as the largest PC lens on the market, the thick beam look is deceptively tangible and eye-catching. Combined with a tight 3.3° narrow beam that zooms out to 45°, the Mondrian has the power to cut through at even great distances in arena touring environments or any large-scale show setting.
JBL Professional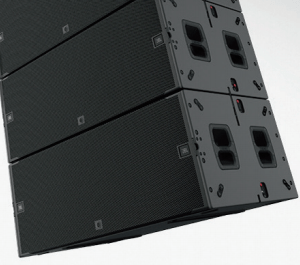 At the core of the VTX B28 is two JBL Differential Drive 2288H-M 18in woofers, engineered for improved linearity, efficiency and extra-long excursion. The combination of the 2288H-M drivers and the large, central, flared port deliver low-frequency output – even at elevated SPL. FEA-optimised integral bracing eliminates inter-cabinet standing waves, improves rigidity, and simplifies the structural design to create the company's lightest, yet strongest product to date. 
With versatile mounting and configuration options, the B28 fits seamlessly into any system. The streamlined, two-point rigging system uses integrated levers and locks, avoiding traditional quick release pins and retaining cables that can get damaged or lost, or limit the potential configurations. This enables the B28 to be stacked vertically or horizontally, using the independent sets of feet on the bottom and sides, while the spring-loaded design ensures there is no rattling during operation. The Universal M20 mounts interface and supported VTX accessories allow for constructing complete ground stacked arrays. NL4 connectors on both the front and rear of the unit enable convenient wiring in standard or cardioid configurations.
Meyer Sound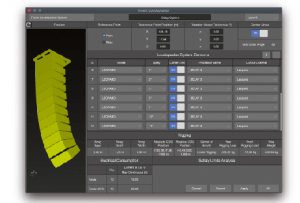 MAPP 3D works on both the Mac and Windows platforms, employing local processing with no Internet connection required and is now available as a free download from the Meyer Sound website. As the name implies, MAPP 3D provides highly accurate, 3D renderings of predicted sound system performance within detailed, wire-frame venue drawings.
Equally important, MAPP 3D now offers complete integration with the GALAXY Network Platform and Compass control software for a seamless workflow from initial design through on-site tuning. Comprehensive processing parameters for complex systems can be optimised using MAPP 3D predictions, with the resulting processor settings pushed directly into multiple GALAXY processors with the click of a mouse.
Shure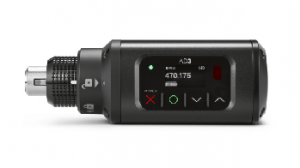 The Axient Digital AD3 Plug-On Transmitter is designed to provide exceptional portability and connectivity, all while still offering the reliability and performance that are synonymous with the Shure brand. Out-of-the-box, the AD3 includes an innovative 'locked' XLR connector design, a user-friendly control menu, OLED display that is easy to read in challenging lighting conditions, and a sweat, moisture, and debris resistant build.
The transmitter also includes a pouch, belt clip, USB-C cable, and supports both conventional AA and Shure SB900A rechargeable battery options. With the Axient Digital AD3 Plug-On Transmitter, audio professionals can transform any XLR microphone into an Axient Digital wireless microphone, delivering audio quality and RF performance, wide-tuning, and encryption features.