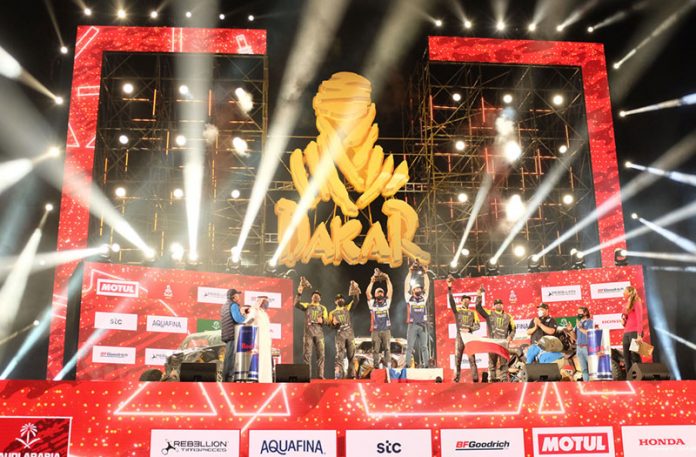 Jeddah provided the start and finish lines for the 2021 Dakar Rally, while its King Abdullah Sports City Stadium – 30km north of the bustling port city – was the venue for the Opening and Closing Ceremonies, which included a special show complete with soundtracks by Daft Punk, other cultural performance segments and a host of media events and live broadcasts including the winner presentations. Each of the two events comprised around 10 hours of consecutive airtime in total.
French creative lighting practice Concept K was invited by Paris-based Leap Creative Studio and Blink Experience's Dubai office to create a production lighting design for the two ceremonies. Their brief also included direction of lighting for the cameras and integration of the set and scenic elements and video screens into a single visual picture for the events which were attended by a live audience of VIPs.
Frédéric 'Aldo' Fayard, CEO and Art Director of Concept K, included 124 Robe moving lights on the lighting plot – a mix of BMFL Blades, Spiiders and MegaPointes – which were supplied by the event's lighting contractor, MediaPro International, together with the production's audio and video.
These Robe luminaires were positioned across a large ground support system built around the stage to provide lighting positions and structural infrastructure for the set designed by Leap Creative Studio, which included LED screens and an impressive 3D scenic model of the striking Dakar 'head' logo.
The 24 BMFL Blades were rigged on the front and sides of the structure and used for key lighting, with the 36 Spiiders deployed on the sides and rear, utilised for general washes and a mix of rich and delicate colouring palettes for different areas of the large stage as needed. The 64 MegaPointes were all positioned at the back.
Concept K also managed all the timecoding and laser effects under the artistic direction of Julian Pateau for Leap Creative Studio and Blink Experience. The technical director for the whole event was Tony Beijani from Blink Experience, and the Media Pro lighting crew chief was Desmond 'Dez' Quadros.
Lighting was programmed by Concept K's Senior Programmer, Theo Broche Cannone, using an MA Lighting grandMA2 console. Lasers were programmed by Jerry John from Dubai on a Pangolin controller under the control of Aldo, with timecode and soundtracks played through a Logic Pro machine managed by Concept K.
Challenges included dealing with travel arrangements for an international team complicated by the pandemic and shifting regulations on quarantine, so some of the vital final decisions on the event production were made only 15 days before Concept K team departed from Paris for Saudi.
Once there, they were working with a completely new technical crew and providers – although all of them are regulars with Leap and Blink, and they also had to deal, design-wise, with equipment that was already available as the timescale was very tight to facilitate any extras, "So we were delighted to see that these Robe lights were available from MediaPro and we based our design around them!" declared Aldo.