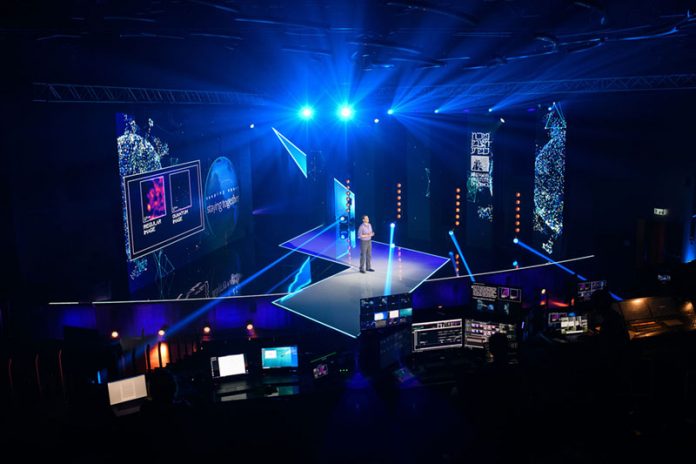 The Weizmann Institute of Science in Rehovot, Israel, held its an annual event honouring the work of Israeli scientists recently, taking on a fully digital format for the very first time.
Lighting Designer Eran Klein of Cochavi&Klein selected an all-Robe moving light rig for the event, which was co-ordinated by communications agency, FaZa.
Staged at the usual location of the Weizmann Institute campus's Sela Auditorium, while the event had no live audience, there was a range of 'live' presentational content, including lectures, seminars, presentations, Q&A sessions and the bestowing of honorary doctorates and other awards.
The team comprised Liron Zabari, Yoram Friedlander, Dana Klein and Hadas Vilensky, and the goal of all involved in the production was to ensure that Director Zabari brought an essential 'as live' ambience to all those tuning in to the stream.
In addition to the action being broadcast, recorded, or streamed from the venue, more presenters joined in live by Zoom, Teams and other remote conferencing platforms and three live entertainment segments featured performances by Miri Mesika, Ilanit and Arik Davidoff.
Set designer Izaq Ronen Wasserstein created an impressive diagonally orientated stage that was dramatically minimal in aesthetic with some bold features including a lightning flash shaped walkway with a plexi top, which was lit from below. This dissected the whole stage area and ended midway through the first tier of audience seating. Klein also accentuated the form with pixel-controllable LED strips.
Onstage, a substantial LED screen on stage right was contrasted with five graduated columns of LED on stage left. The tops of all these LED sections were masked so they slanted, keeping the distorted perspective styling.
Klein utilised six Robe BMFL Blades, two of which were positioned out in the audience area on flight cases. The other four were rigged on two V-shaped trusses that mimicked the shape of the lightning flash on the stage. "I needed to know that wherever Liron put a guest in the auditorium or on the stage… I could quickly and easily get key lighting onto them," he explained, adding that in some shots, these key lighting positions also became back-lighting.
He deployed 10 out of 15 Robe MegaPointes on the trusses with the other five on the floor – for effects – and 10 LEDBeam100s were also on the floor along the front of stage as footlights and to enlarge the overall picture. Seven Robe Spiider LED wash beams were on the overhead trusses with the MegaPointes.
Lighting rental company Simul cross-rented the BMFL Blades from Danor Theatre and Studio Systems for this event, for which they also supplied audio and LED screens. All the scenic elements were delivered by Gideon Rokach. Klein programmed and ran the lights on an MA Lighting grandMA2 system with full redundancy.
"The Weizmann Institute has a great reputation for high-end science and that needed to be reflected in the presentation, which had to look official but be cool, sharp and on-point," he concluded. "It was a demanding task, but we all love challenges and being imaginative. Everyone was delighted with the results."