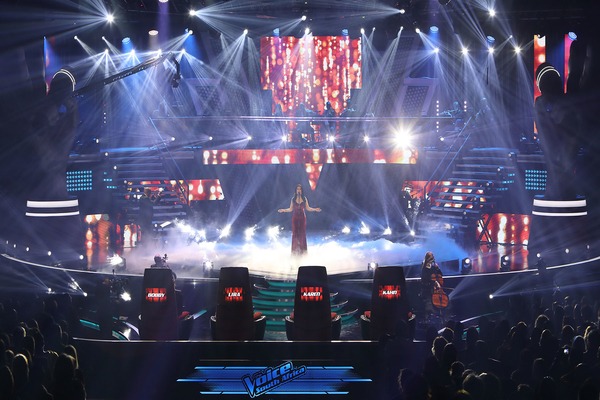 The 2nd season of The Voice South Africa concluded with a show-stopping light display, which incorporating a range of Robe fixtures.
TV producers AMPN appointed South-African based Multi-Media as their technical production company for the second year running, with Joshua Cutts of Visual Frontier appointed as the Lighting Designer for another consecutive year.
The show, aired on M-Net, transitioned from a 500 capacity studio to the 3,000-seat venue Mosaiek Teatro in Fairland, Johannesburg with a set designed by Dewet Meyer. "Dewet is great to work with in that respect" commented Cutts. "He really understands how light works and gives me a good degree of control over how the appearance of the structures and shapes can be changed with the application of light".
Lights were rigged on a set of finger trusses running upstage and downstage, fanning out from the middle stage, 24 Robe LEDBeam 1000s were among the first fixtures to be placed on the rig. An additional 12 Robe BMFL Blades were utilised for key and front lighting, plus a range of specials.
In the upstage filler positions 18 Robe Pointes were distributed around the fingers, working closely with 24 Robe miniPointes on the floor. Robe trussesLEDBeam 100s were added for supplementary beams, while 16 Robe CycFX 8s were used to fill in the black holes upstage.
For the finale, 40 Robe Spikies were added to the rig and used to accent the lines of the set and to delineate the stage and mezzanine, among other areas. The LD highlighted architecture and was assisted with the programming by Andre Siebrits. The duo utilised 2 grandMA2 light consoles and ran a VPU for the pixel mapping.
"It's a great environment. All departments can put ideas forward with the goal of enriching the end result, and in the meantime, we all get on with our own specific areas, but aware of the fact we are one big team. There's a lot of creative buzz and many smiles," Cutts concluded.