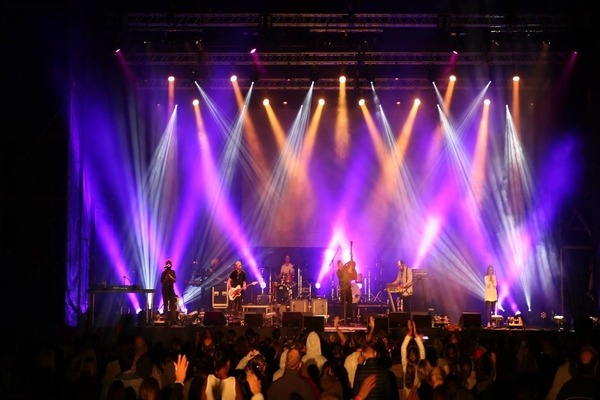 For 2 days in November 2017, Sandringham Farm, in South Africa, was transformed into a village of religious worshippers, supported by a range of Chauvet Professional fixtures.
Attendees came together to listen, as Christian bands from the UK, US, South Africa and many more, as well as to raise their own voices in singing gospel music. JP Willson of Unfazed Productions provided an uplifting visual backdrop with ab ebullient light show of vivid colour washes and powerful aerial effects. Key to Willson's transformative design was his collection of Chauvet Professional Rogue R2 Wash fixtures.
Willson hung 11 of the Chauvet Professional RGBW LED washes on a mid and rear stage truss, using them to reflect the mood of the music. The Rogue fixtures were used to sweep the stage with colours as well as for backwashing performers and aerial washing. The fixtures' wide 12° to 49° zoom range allowed Willson to change his coverage area; while the output from their 19 15W LEDs provided him with enough output to have his washes far into the audience.
Sixteen Chauvet Professional Intimidator Hybrid 140SR fixtures from Chauvet DJ joined the Chauvet Professional Rogue units on Willson's rig. Powered by a 140W discharge lamp, the combination spot, beam and wash effect created an impressive variety of looks during the 2-day festival.
"The Intimidator Hybrid is a great value fixture," said Willson. "Budget is always a concern when buying fixtures for events like this, and I'm always so impressed with the features this gives you for the investment."
Drawing on the Chauvet Professional Intimidator fixture's 2 overlapping independently controlled prisms, Willson created a variety of powerful beam effects. He also used the Intimidator units for crisp gobo projections. Working in conjunction with the richly saturated colours from the Chauvet Professional Rogue Washes, the beams and specials from the Intimidator Hybrids created an immersive, uplifting atmosphere that contributed to the transformative experience that defined The Gathering Festival.