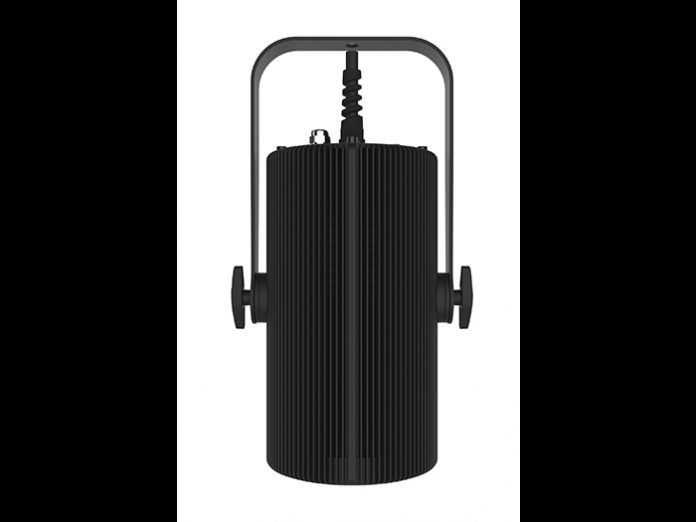 Chauvet Professional has brought a new level of colour-mixing to house lights with the introduction of the Ovation H-605FC.
The new convection cooled fixture is powered by an RGBA-Lime LED engine, enabling it to replicate nearly any colour with extraordinary accuracy, as well as virtually any colour temperature of white. This feature allows the fixture to excel not only when functioning as a traditional house light, but also when used to colourise a room as part of a theatrical production or worship service.
"We developed the Ovation H-605FC in response to the demand from customers who wanted full colour-mixing in a house light," said Albert Chauvet, CEO of Chauvet. "The RGBA-Lime LEDs give this light excellent colour-rendering capabilities. At the same time, it also has a virtual colour wheel to match popular gel colours."
Colour Temperature Presets from 2800K to 6500K with high CRI and CQS ensure that the fixture's output is of the highest quality. Adding to the value of the Chauvet Professional Ovation H-605FC is its 16-bit dimming, which results in extremely smooth colour fades down to the bottom of the curve. This allows the light to be dimmed at the start of a theatrical production or worship service without distractive sudden drops in output.
Interchangeable lens plates allow the fixture's beam angle to go from narrow to wide, so it can be adapted to different mounting heights. Mounting can be done effectively from pipes or integrated loop-eyes, thanks to the yoke that's included with the fixture.
Silent in its operation, the Chauvet Professional Ovation H-605FC is well suited for recital halls and venues that have video productions. The fixture also features adjustable Pulse Width Modulation, which avoids flickering on camera.
Control of the versatile Chauvet Professional Ovation H-650FC can be achieved via DMX, WDMX or RDM. The fixture has 5-pin XLR and terminal blocks for DMX connections. "The Ovation H-605FC is easy to control and install," said Chauvet. "With its colour-rendering capabilities and other features, it will broaden the range of house lighting opportunities open to designers."