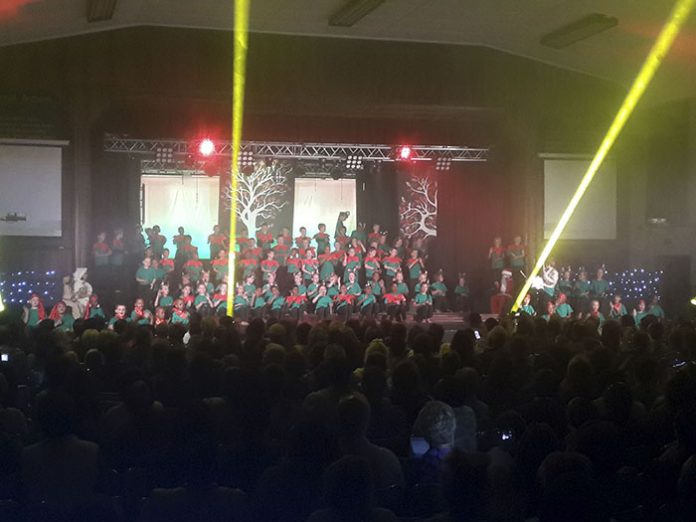 The young students in the Truida Kestell's Primary School gospel choir performed before family, friends and community at the annual Truida Kestell Choir Festival.
Adding to the occasion was a special stage lighting kit, the sort normally reserved for a full theatrical production rather than a school choir performance. Lighting Designer Fanie vd Walt, owner of Fanjan Productions, was able to create this stage package without overshooting the festival's budget by using a collection of value-driven fixtures from Chauvet, acquired from South African importer Audiosure.
To give the stage the punch one would normally expect from a larger production, the LD called upon two Chauvet Professional Rogue R1 Spots positioned five metres in front of the stage for gobo projection. The gobo effects were one of the highlighted features of the Rogue R1 Spots, which were used to surround the children with depth and atmosphere on stage.
An additional pair of Rogue R1 Beams were positioned on the front of the stage floor.
Dousing the stage itself in a carpet of light, two Chauvet Professional Ovation F-95WW Fresnels were positioned on truss five metres in front of the stage for stage colour wash.
Also providing accents to the stage were several Chauvet DJ fixtures. Among these were two Intimidator Spot 350 LEDs and two Intimidator Spot 250 LEDs, positioned on the centre truss on stage for beam effect and crowd interaction.
Four Chauvet DJ Geyser RGBs were positioned strategically on the sides of the stage to add to the atmospheric effects in the hall. Two Geysers served to create a pyro effect, while two worked in conjunction with Chauvet DJ's Core 3×3's.