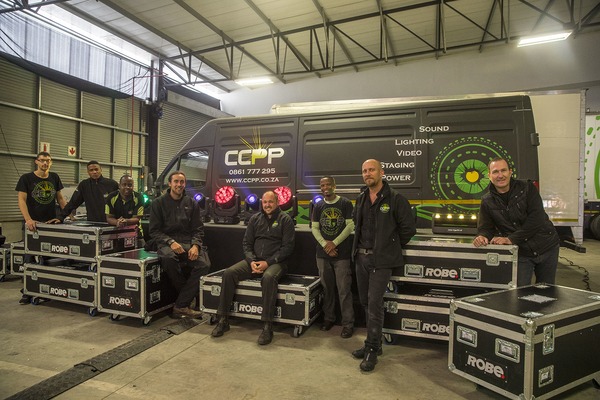 CCPP, a busy and fast growing technical production and rental company based in the Maitland suburb of Cape Town, South Africa, headed by Clint Cawood, recently made a substantial investment in Robe moving lights for their ongoing production work.
The latest purchase included over 100 Robe fixtures, such as 24 Spiiders, 24 Spikies, 48 LEDBeam 100s and 24 CycFX 4s, which join the Robe DLS, DLX and miniPointes already in the rental inventory.
CCPP's first Robe purchases were in 2012, and delivered by Robe's South African distributor DWR. "We really want to help enrich the industry with this latest purchase" commented Cawood. "Robe as a brand is very strong in South Africa, the after-sales service and support from DWR is fantastic and both these facts were integral in our decision to purchase."
The new kit went directly on to the biennial Mediatech Africa expo in Johannesburg, where it was showcased in The Black Box, a new experimental / educational concept area with shows and presentations by 2 of SA's leading Lighting Designers, Joshua Cutts and Chris Bolton of dynamic design practice, Collective Works.
"They illustrated the products and their capabilities really well," confirmed Cawood. "People are very keen to get their hands on them!" stated Clint.
Recent shows for the new Robe kit include a 50th anniversary concert by legendary SA funk / soul band The Rockets at the Grandwest Arena in Cape Town, designed by Hennie Pretorius, CCPP's Technical Director. The show utilised 24 Robe miniPointes, 16 Spikies and 24 LEDBeam 100s, combined with lights from the house rig, which itself contains Robe Pointes, LEDWash 600s and 1200s together with some older Robe ColorSpot and ColorWash 700E ATs.
The current 2000sq metre CCPP facility in Maitland includes 36 full time staff, which supply production to around events during quieter months of the year and around 4 in that category alone during the season, plus a plethora of smaller shows.