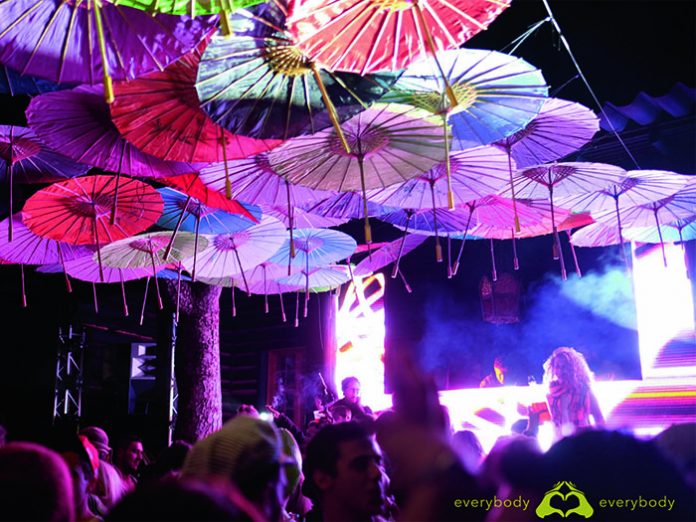 With 100% of the proceeds going to charity, the sold-out, three-day charity event was put together by NGO Everybody Love Everybody and featured a powerful Funktion One Audio rig. TPMEA reports from South Africa.
Originally starting life as a one-off fundraiser to help a local orphanage, Beats in the Bush has quickly it grown into a major charity occasion and the flagship event in the organisers' calendar.
The gig happens once a year, generally over three days in the spring. Organiser Everybody Love Everybody (ELE) has hosted four Beats in the Bush events to date, with the first raising just £250 GBP and the most recent raising £10,000 GBP for its two beneficiaries.
ELE has also held smaller, city-based, one-day events over the years that have added to the total funds raised, which is now over £30,000 GBP collectively.
The fundraiser is supported by artists, DJs, suppliers and technicians who are willing to donate their services for free, underpinned by the positive energy of ELE's Mike Earp and Tim Sammons.
Earp commented: "We have an epic network of friends, many of whom have jumped onboard and helped our beloved organisation make a substantial difference in the lives of those who desperately need a helping hand."
The tickets are limited each year and have sold out at every event for the past two. Earp maintained that this is because ELE prefers to keep the experience "intimate and personal", allowing everyone involved to get to know each other and the general energy of the event to "shine through".
"It's a great model and it proves itself over and over again. The DJs who share their passion at our events are in full support of the cause and love the ELE brand. It really is a beautiful initiative, one that seems to have a ripple effect into the lives of everyone involved," he said.
Despite having a relatively modest budget, ELE has made top quality production values its number one priority. Earp said the best way of achieving this was to build and maintain healthy relationships with all of the suppliers and sponsors that fully support the cause.
He added: "We want people walking away after having a unique experience and a feeling of awe. That's our goal at each event – to create a unique, moving and world-class experience for each and every attendee."
The key to this for Beats in the Bush was securing a Funktion One rig from Pretoria-based supplier, Phuture Sound. The company's founder, Anton Sinovich, oversaw the provision of a full Funktion One rig, which he said "really raised the bar of the sound quality" for the event. The company, which acts as the sole distributor of Funktion One in South Africa and Africa, provided the gear free of charge.
The setup for the main dance floor consisted of four Funktion One Resolution 4 loudspeakers, and four F221 double 21-inch bass speakers. Processing was taken care of by a Funktion One X04 audio management system with AudioCore and the main amplification was through an E25, E100 and an E90 unit, all powered by MC2.
DJ monitors were two Funktion One Resolution 1's, two BR115 15-inch bass reflexes and a Funktion One F60-DV quad amplifier and processor (FFA).
Sinovich commented: "The event was very well organised and characterised by lovely people, both those organising it and those attending. It was 100% for charity, particularly for a children's home in Johannesburg that was struggling to make ends meet. There were no administration fees charged by the organisers and around £10,000 GBP was raised, which then went into an audited trust account. This then pays out a monthly sum to the charities, and enables them to keep afloat."
He continued: "This is a great story that should be told. The real heroes are Tim, Mike and the all the DJs who were motivated to do something great for this childrens' home after being moved by the poor conditions and lack of resources available for the great work of these passionate people," added Sinovich.
Earp added: "It has been an absolute pleasure working with Anton on our most recent project. When we had the opportunity to meet him and the Funktion One South Africa team, we were over the moon. Needless to say the meeting went well and everything ran smoothly.
"The sound on the night was impeccable and definitely had a massive impact on our overall production values. The audio setup was unbelievable and we really hope to be able to maintain this relationship going forward, as having Funktion One on board is a real game-changer from a technical point of view."
As well as the "world-class" PA system, ELE was adamant that it would not hold back on any technical aspects of the production.
Beats in the Bush also sourced a three metre by three metre LED screen for the DJ Booth and an array of atmospheric lighting equipment that Earp claimed overwhelmed the guests "in the most beautiful way".
He concluded: "It really was a magical event and a big part of that magic could be attributed to our technical success."