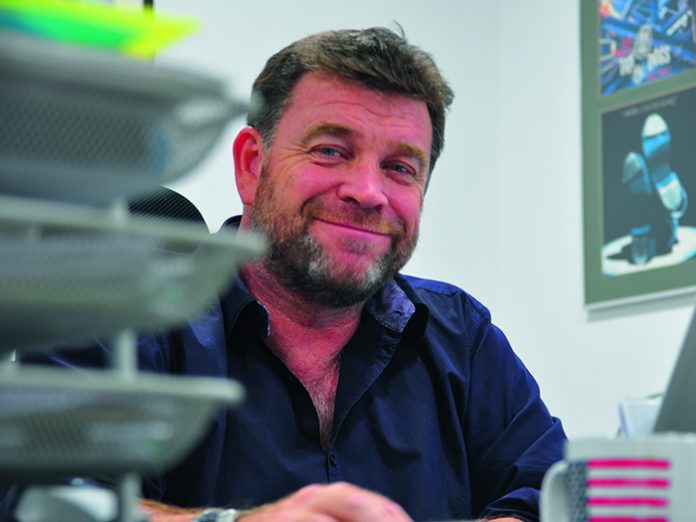 Dubai has long held a fascination for British companies and entrepreneurs in the sound and lighting industry, dating back well before the end of the last millennium.
Fuelled with wanderlust and the promise of riches in an under-developed market, early frontiersmen often failed, and yet they managed to blaze a trail for those who would later follow. By 1995 Gearhouse Dubai was up and operating, paving the way for a steady colonisation. This in turn led to greater sustainability and more professional infrastructure, as the industry entered the Noughties.
The burgeoning need to embrace standards of health and safety was backed with technical training and education for the migrant workers in the nascent events industry, many arriving in this cultural melting pot from places such as Kerala and Goa.
As building projects became ever more expansive – and 24% of the world's construction cranes moved into the Emirate – technology manufacturers would typically set up base in the Dubai Free Zone, in time moving either to the Dubai Silicon Oasis or later still to the emerging Dubai Investment Park (DIP).
It's probably no coincidence that those British emigrés who have succeeded best are those with the ability to realise projects on a grand scale – and who were prepared to carry inventories to support the increasingly spectacular shows, whether sound, vision or staging.
For almost a decade this tapestry has included the engaging and popular figure of Delta Sound Dubai's Andy Jackson – who has taken the legacy of the London-based parent company set up by Paul Keating and Mark Bonner in 1988, and propelled it on a macro scale across the region. In this TPMEA interview we trace his journey to the Gulf and beyond.
From an original background in theatre, Andy Jackson had been very much part of Delta Sound's success since the get-go. Having received his induction to the industry via an ABTT audio course back in 1986, the young sound engineer was soon operating in touring theatre for predominant specialists of the day such as Triumph Apollo Productions and Paul Farrah Sound. It was while working with the latter that he met Mark Bonner
"I was one of many floating freelancers, and basically Delta were looking for someone to take on their work," he recalles. "I came on board as a junior engineer at a time when they were very much moving into the corporate sector, which was a growing and untapped market."
Andy was impressed with the way in which the company was pushing boundaries and feeding the appetite for increasingly complex product launches and technically advanced awards ceremonies and corporate events for the big American agencies, back in the unforgiving days of analogue. He worked on and off for Delta for 12 years – as well as undertaking a stint for Capital Sound, which also exposed him to the world of concert touring.
He was the original sound engineer for the Mercury Music Prize, supervising its inauguration at the Savoy Hotel in 1992 and remaining with the prestigious event before handing the baton on to Stew Chaney 10 years later. "Working with TV and corporate elements as well as live music gave me a balance of all genres," he says. "The corporate work was a good learning curve – budgets were healthy and the clients' expectations were often monumental. The concept had generally not been seen before and Delta became very strong in this sector."
Andy Jackson also managed to keep his hand in theatre – with the long-running Australian show, Tap Dogs and Dancing on Dangerous Ground, an Irish dance show at New York's legendary Radio City Music Hall.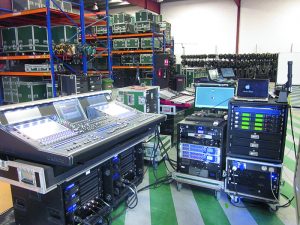 One highly significant event that segues neatly to his future life was Fatboy Slim's legendary Brighton Beach Boutique, where he first met Lee Charteris. For Charteris, too, has been domiciled in the Emirates for many years – working, until recently, at Flash Entertainment, and so a fertile relationship was reignited.
"When Lee moved to Abu Dhabi, it changed the landscape of supplier delivery in the UAE," said Andy. "Lee's direct approach forced the then mainstream suppliers to up their game."
When Andy was offered his first job in the region – by Gearhouse Dubai back in 2002 – he was initially sceptical. "I thought I would probably get terrible equipment and only half a dozen crew – but on the other hand it would be nice and warm."
Instead, Gearhouse Dubai, with Peter McCann having taken over from Steve Lakin, presented him with an interesting proposition. They wanted to buy an L-Acoustics rig but L-Acoustics would only permit this as long as it was operated by a certified engineer.
As a qualified V-DOSC technician he took the opportunity and stayed with Gearhouse for three years – remaining a loyal L-Acoustics man to this day. "We were a close team at Gearhouse; with Rob Eatock and Arif Khan we presented audio as an important part of the production, and change was in the air."
But having gone as far as he could, the option then was either to move to the freelance world "or do something different entirely."
Fortunately for the industry he chose the former but his biggest problem was getting hold of credible kit. "I would pick up many of the big shows but clients would ask if I could source the kit as well. A year later I sat down with Mark [Bonner] and Paul [Keating] in a pub in Kingston and said there was a great opportunity here!"
Delta's two founders obviously agreed, as soon a 20ft container with 12 dV-DOSCs and a Yamaha PM1D arrived in the Gulf.
Andy Jackson had accomplished most things in the sound world – but never been involved in a start-up a company.
"Like most industry entrepreneurs, I came very much from a technical background. The concept of running a business had never entered my mind, but as long as we were offering value for money and delivering to a higher standard than our competitors, then we could build the business organically. From a business point of view, working in a country with no bankruptcy laws forces people to act responsibly and cautiously with regard to investment and exposure."
Andy had already relocated his wife Lorraine and son Tod to Dubai back in 2002. "We talked about it being a five year plan – and I would then be able to come back and retire on the proceeds… before reality kicked in!"
The Jackson family settled into the new lifestyle immediately, quickly making friends. "My son was five and so it was a big decision. But I knew I had got as far as I could in the UK – and it was totally the right time. Interestingly the family love living in Dubai and have enjoyed seeing the changes over the last decade. Tod is now at university in Dubai."
Although there was little competition in the early days business ethics could be questionable. He settled in among a farrago of notorious locals such as Liam McGrath, drummer at the infamous York Club in Dubai, who helped him set up his first operation, and idiosyncratic production manager Nick Chapman.
"It was like the Wild West," he remembers. "You had no idea what you were letting yourself in for."
But that was to change in 2006 when Delta Sound LLC officially incorporated, with Mark Bonner and Paul Keating partnering with Andy Jackson. Today the company operates out of four locations, including Dubai. "We are trying to globalise the brand of Delta so we cam make the same offer around the world," says Andy. "Moving forward, it is vital that we make the most of global equipment utilisation. This is an area that I will be focussing on. At the moment, Dubai and London have very different inventories, the idea is to combine the assets. Both Qatar and Hong Kong will be managed through Dubai."
With the addition of Craig Harvey, the operation was pegged at just three staff for the first 15 months – an amazing piece of prescience in the event, given the sudden collapse of the economy in 2008, with major projects being mothballed.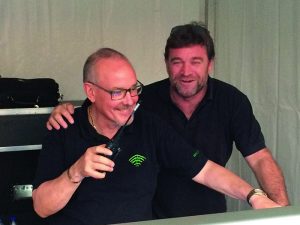 "Although we had a small amount of kit we were still doing quite large projects," he recalls. HQ Creative had used Andy's expertise for the spectacular opening of DIFC (Dubai International Financial Centre) in 2006 and 2007 – and this continued on an annual basis until the 10th spectacular anniversary in 2014.
"We were probably the only local company who could have technically delivered that," believes Andy. "It was in our first year and that really put us on the map."
The launch of Atlantis, The Palm was to follow towards the end of 2008 as the company seemed almost recession proof. To put it into perspective, during the past decade the turnover of the company has increased tenfold.
However, they can hardly be accused of wantonly chasing the next dirham. Andy believes it would devalue their offer if they were to diversify from their traditional speciality of PA and comms, so we will not be tempted to embrace video or lighting. It's important to co-exist amicably with everyone, he believes.
"We have an amazing relationship with all suppliers in the region who will come to us when they need assistance. We are able and very happy to share our expertise and unique equipment to anyone who needs it. It can often be a very aggressive market with many suppliers overpromising – therefore, we are available to enhance the production."
It is this level of professionalism that is Delta Sound's DNA today and Andy is fiercely protective of his company's reputation.
'We have built up a team over the last 10 years that is respected around the world, and have taken staff welfare to a standard that is akin to anywhere in Europe. We are very process driven and we have shown we are here for the long term." By that he means Delta Sound not only has H&S compliance, with formal training and onsite awareness, but BSI accreditation and OHSAS 18001 certification. "All these are massively important; these processes determine how everything is logged and documented."
However, a chastening moment came just this summer when one of their employees, operations manager Claire Ferguson, died of an asthma attack, having worked at the company for almost four years.
"Claire was a very special person to all that knew her and will always remain a part of our lives. As Claire's sponsors we are responsible, and this has made it even more important that we do the very best we can for our employees," continues Andy. "It's part of our policy to look after our staff even when the most tragic event happens."
However, there is no escaping the fact that when the Dubai economy collapsed, it sank far and fast. Delta Sound, like many companies, ventured 90 minutes down the Sheikh Zayed Road to Abu Dhabi to boost their work roster. They have handled the Abu Dhabi F1 Grand Prix concerts every year since the track was built on Yas Island (including the unforgettable inauguration with Aerosmith over four nights) "Abu Dhabi became an important part of the business, during the Dubai recession."
And believing the old adage about never wasting a good recession their reaction was then to open in Qatar in 2010. "Dubai was on its knees economically and the big projects were happening in Doha, although it's pretty quiet now compared with 2010. Doha continues to run as its own entity, although the company is concentrating on communications in that territory," he points out.
Another major coup was the opening ceremony of the Burj Khalifa at the start of 2010, once the go ahead was given to complete the world's tallest building, and again Delta Sound were on hand for the spectacular opening ceremony.
"It was the first time we had worked for [French company] Prisme although we were well known to each other." Although the economic recovery was underway by 2010 it was still not possible to airfreight 20 tonnes of equipment from Paris, so it was in Prisme's interest to look at local solutions. "We were a good match for them, with our expertise, love of red wine and a safe pair of hands," states Jackson.
Through clever networking, and his many connections in the industry, the Delta man has always been adept at securing the services of top mixing engineers and system techs. One of his inner circle is Al Woods, another with a strong Capital Sound connection, and one of the most highly sought system techs back in the UK – but with something of a fiery reputation. Andy Jackson chuckles when he says: "I was the man that tamed the monster! We've known each other for 20 years and I knew he wanted to expand and do something different.
"When I made the announcement that we had appointed him, people wondered how we would control such a 'no compromise engineer' but Al has become an important part of the management team. Al's experience is second to none and he shares his knowledge by devising and running all our internal training."
Between them the two men can also tap into the UK's finest sound engineers, who regularly visit Dubai -"People like working for us," he said. "They know the work will be challenging but they know the project will be unique."
So what has changed most significantly in the region in 2016? Andy Jackson ponders: "The projects are still as ambitious but it's way more procurement driven, this often means the final contractor appointment is made by accountants rather than production managers. Unfortunately, sometimes that leans in the favour of the full service providers.
"There are huge entities in the region with enormous inventories all looking for increased market share. The danger is that as prices are forced down, the industry will become undervalued and it's impossible to bring the price point back up to where it needs to be."
Yet Delta Sound Dubai continues to diversify – most recently into Hong Kong, which was opportunity driven. "We did a couple of theatre tours and corporate projects in the region and therefore decided to team up with Dan Mosley to assist in our delivery," reports Jackson. "It's an opportunity for our comms dept to thrive." Notable recent projects have included the opening of the Apple Store in Shanghai, Studio City and Parisian Hotel in Macau.
However, the addition of Hong Kong to the portfolio has intensified the Dubai MD's travel itinerary, which in the course of a month typically involves a week spent in Qatar, a week in Asia and two weeks in Dubai.
Delta Sound Dubai may have been reluctant to move sideways into other technologies on the rental side, but recently they took a strategic decision to grow vertically into integration by setting up Delta AV Solutions. "We were increasingly getting approached for installs," he explains. "We provided an L-Acoustics system for the Madinat Theatre three years ago and we needed to separate the business.
"We also took the distribution rights of Waves, DiGiCo and L-Acoustics. But some of the Dubai based companies weren't happy buying from a competitor." So their response was to set up AV Solutions, appointing Gareth Armstrong, who came with a full delivery background, to head it.
Prestigious Dubai venue, Zero Gravity then asked the integrators to design the rest of their club with stand alone equipment – and they were up and running.
Looking back at the last 14 years since relocating to Dubai, Andy Jackson's approach has been nothing but pragmatic and philosophical. "In terms of timing I have always managed to get things right but at the same time I'd be disappointed if I looked back and thought we could have done things differently. I'm quite impulsive and believe you need to stand by your decisions. I can look to the future but I can't predict it."
But the one thing of which he is most proud is that during the decade in which Delta Sound Dubai has been trading – during which time the population of the region has doubled – he has never lost a member of staff to a competitor. It is a proud boast. "People who have left Delta have either furthered their career within the Delta group, gone freelance – or they have retired."
Dubai may have been one of the worst hit cities in the world from a business perspective, but post-recession all sectors of the Dubai property market are now gaining momentum. For people like Andy Jackson who managed to dodge the bullets, and keep a steady hand on the tiller through those choppy waters, life remains good.
"This is a great place to live and the rulers have it right on – Dubai's ruler Sheikh Mohammed is a class act and completely in touch with the perople. This was the first place to kick the recession – and when the rest of the world was imploding Dubai was back on its feet.
"My son is at the SAE studying sound engineering and we have a good relationship with them, having taken on six or seven of their graduates; it's a great way into the industry."
But in this great urban horizontal and vertical sprawl, once described as 'Las Vegas on steroids' surely there is something that a rural Somerset lad who grew up within the sound of Glastonbury misses back home. "Well I do miss the countryside," he admits, after due consideration, "but I'll get it back to it one day."
www.deltasound.uk