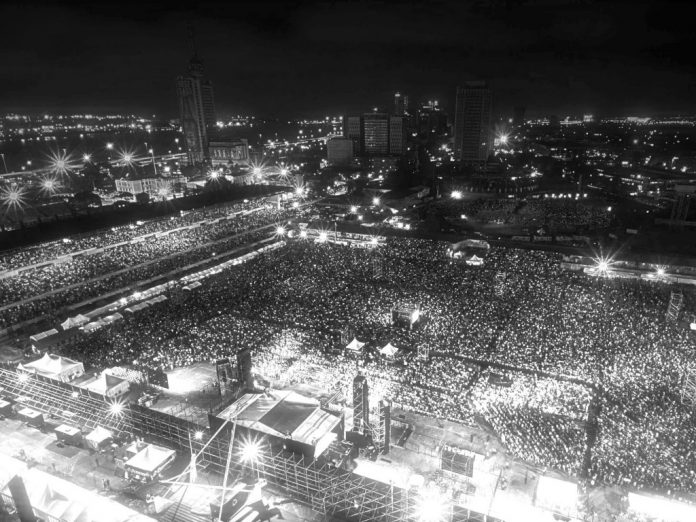 Over 500,000 people attended, The Experience, a mega concert at the Tafawa Balewa Square in Lagos, Nigeria. The show is an interdenominational gospel concert organised in Nigeria by The House On The Rock, a vibrant, multi-ethnic church.
Organisers chose an Outline audio system to ensure that the spoken word and music by the numerous artists such Don Moen, Donnie McClurkin, Fred Hammond, Micah Stampley, Kim Burrell, Hezekiah Walker, Jessica Reedy and Sonnie Badu, were heard loud and clear by the huge crowd.
Cytech World Communication were called in for the third consecutive year to handle sound production for the huge event that featured 11 hours of non-stop prayer and live music.
The main FOH Outline audio system was comprised of 30 GTO C-12 line arrays, two GTO-DF down-fills, 16 DBS 18-2 subwoofers and four LAB 21 HS infra-low subwoofers. Coverage for the audience near the sides of the stage used 20 Butterfly line array. Six Outline 2-way DVS 12 point source cabinets provided front-fill facilities, and 24 Butterfly and eight 218 Subs were deployed as delay units. Outline T-Series amplifiers powered the entire sound system.
With a limited time frame the audio team used Outline's Openarray-3D acoustical prediction software to guide the installation of the sound system, which had the task of covering all of Tafawa-Balewa Square, 280 by 200 meters, bounded by tiered seating 20 meters high and 30 deep running the full length of its long sides.
The Experience's System Engineer was Italian live audio veteran Carlo Gennaro, who explained: "Due to the vast area and the size of the crowd, achieving the best possible results in terms of coverage was fundamental to ensure everyone enjoyed and participated in the show, no matter where they watched it from – even for those in the bleachers. The Outline rig with it's impressive long throw, precise coverage and overall clarity overcame this challenge with ease and precision and the result was really gratifying. At FOH, forty meters from the main system, we had of 110dB of undistorted SPL. We couldn't have asked for more!"