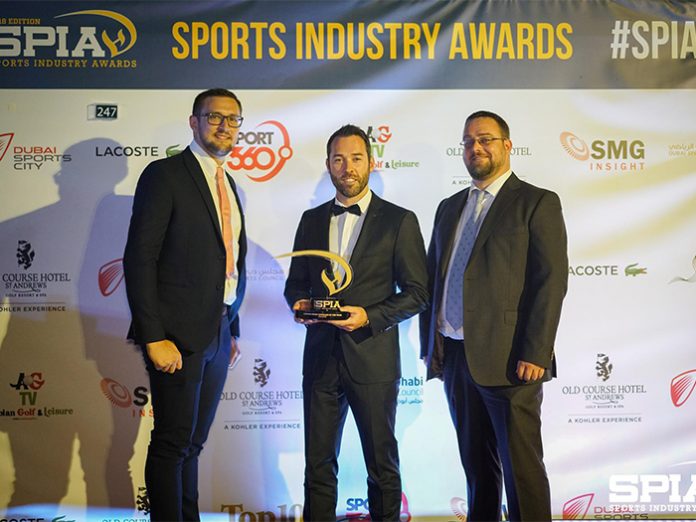 eclipse Staging Services has received the 2018 Sports Industry Awards 'Sports Event Supplier of the Year' gold award for its support at the Emirates Airline Dubai Rugby Sevens Tournament 2017.
eclipse has provided full audio reinforcement across the entire site at the Sevens as well as extending its staging and full AV support for the Rugby Rock concerts. John Parkhouse, Head of Audio at eclipse said: "The Rugby Sevens event has a special place in the heart of the audio department, some of whom have worked with the Sevens for in excess of six years. While it may not have all the 'bells and whistles' equipment-wise of some of the more technical work we do, it is still seen by most of our crew as a highlight event of the season to work on. The Sevens is legendary on the Dubai calendar and remains unspoiled by time, year-on-year it has a really great vibe throughout the weekend."
He continued: "With multiple audio systems at play throughout the various pitches for commentary and entertainment as well as a concert system, the awards submission focused on the effort and attention to detail of the crew who along with the organisers feel the pulse of the tournament crowd and help bring the event to its natural crescendo for the final match. So in this sense, we are thrilled to receive the supplier of the year award for an event that we always look forward to and enjoy being a part of each year."
Martin Lubach, eclipse Staging Services' General Manager, is delighted to win the award and commented: "We were honoured to supply to one of Dubai's top social and sporting events. It gives the team confidence that we are leading the way in developing the sports sector in the UAE. Winning the SPIA (Sports Industry Awards) award again is a great recognition and it goes to show our commitment to the quality of our projects and efficiency of our services."
The winners for the 6th edition have been announced and the awards presented during the SPIA Gala Dinner Awards on the 10th of April 2018 at the One&Only Royal Mirage in Dubai.