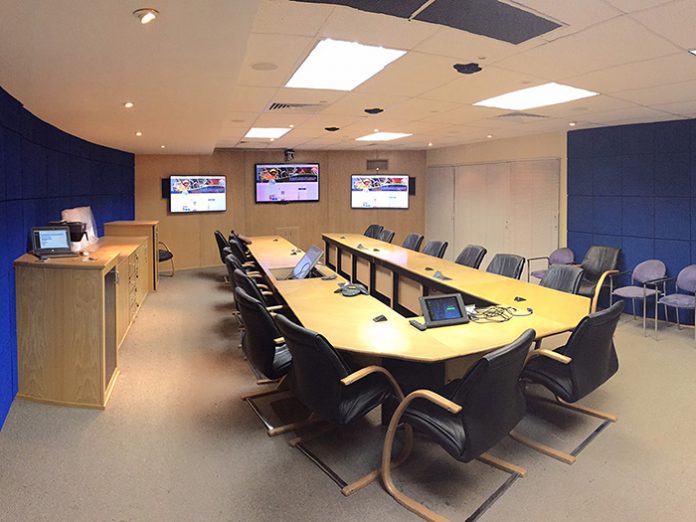 When Eric de Jager, managing director and certified technology specialist at TechSonic, was challenged with providing sound and video coverage for three large Zoom Room-enabled meeting spaces at a top law firm in South Africa, he and his team came up with a unique solution using MXL Microphones, the professional audio division of Marshall Electronics. Being that he had great success using single MXL AC-404-Z USB-Powered Microphones as ceiling-mounted microphones for small Zoom Rooms, Eric knew that the MXL AC-360-Z would be ideal for installing in a larger space.
MXL AC-360-Z expands on the AC-404-Zs three internal capsules to offer a four-axis design, enabling 360 degrees of sound coverage. When de Jager was introduced to the AC-360-Z in 2018, he was confident that this was the solution made to provide amazing pickup in all directions of the three large rooms.
"It simply did not make any sense that such a small microphone could have such an amazing pickup," said de Jager. "This triggered my curiosity to further investigate the product for other applications. The previous year we installed many projects with beamforming ceiling microphones, but the setup was quite tricky, and customers found it just too expensive to buy the right number of microphones for the required coverage. So, my first plan of action was to see if MXL could answer my ceiling microphone issue. And it really did!"
It was a gamble for de Jager and his team to spec the AC-360-Zs as ceiling microphones, but the results proved that this was an outstanding solution, offering sound coverage in all directions. Since providing the solution for the law firm's meeting spaces, Eric has also implemented it in two, 36-seat boardrooms, one classroom hall and has sold more than 60 microphones with the same solution.