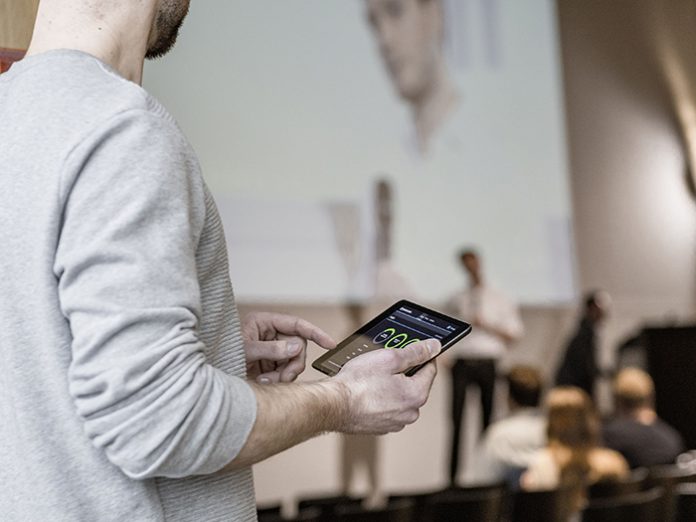 With the release of version 2.0.0 of Sennheiser Control Cockpit, this acclaimed software has been further developed into a flexible IT-driven tool that ensures optimized workflows and convenience for professionals managing wireless microphones.
In addition to microphones from Sennheiser's SpeechLine Digital Wireless series, this latest version now supports the new evolution wireless G4 microphone systems and is downwards compatible with G3. Furthermore, 2.0.0 offers password protection, enhanced battery management options including notification profiles, and a thorough refresh of the user interface to enhance usability. The software is now available for free download from the Sennheiser website.
"Enabling the management and monitoring of both SpeechLine Digital Wireless and evolution wireless G3 and G4 microphones, Sennheiser Control Cockpit 2.0.0 is a universal tool for business, corporate and education settings," said Kai Tossing, Portfolio Manager, Business Communication at Sennheiser.
Efficient digital workflows save time and effort
Developed in cooperation with AV and IT experts, Sennheiser Control Cockpit has been designed to make the daily routines and workflows associated with the use of wireless microphones in corporate and campus settings far easier.
For example, thanks to Sennheiser Control Cockpit, tedious tasks like checking each and every microphone for potentially discharged batteries has become a thing of the past. Rather than visiting every room to look for potentially discharged microphones, IT and AV staff can simply open the Sennheiser Control Cockpit dashboard and filter all devices for low batteries – or check their smartphones for any push messages about low battery levels. Recharging can be delegated to colleagues who happen to be near the rooms in question or to those responsible for a particular part of a larger facility such as a campus. For this, multiple notification profiles can easily be configured.
Easier support thanks to Sennheiser Control Cockpit
Sennheiser Control Cockpit also helps IT and AV staff in the identification of potential issues that an end user may encounter. Via the software, staff can monitor and remotely control each microphone and check whether the devices have linked or whether the mute switch has accidentally been activated, for example.
Always up to date
Once registered, the IT/AV team will not only receive their software key but will also be kept up to date regarding future software updates – they will automatically receive an in-app notification or a newsletter when new versions are available.
Networking
All that is needed for an efficient microphone control network is a host PC (Windows 7 and above) that runs the Sennheiser Control Cockpit software. It connects over the network with the microphone systems and provides a client web interface. This web interface can be accessed anywhere in the campus or office network. Access can be made via wired equipment or via Wi-Fi, and with any Windows PC, Mac computer, portable device or smartphone with Windows, macOS, Android or iOS operating systems, respectively.
The Sennheiser Control Cockpit 2.0.0 software is now available for free download from sennheiser.com/control-cockpit-software