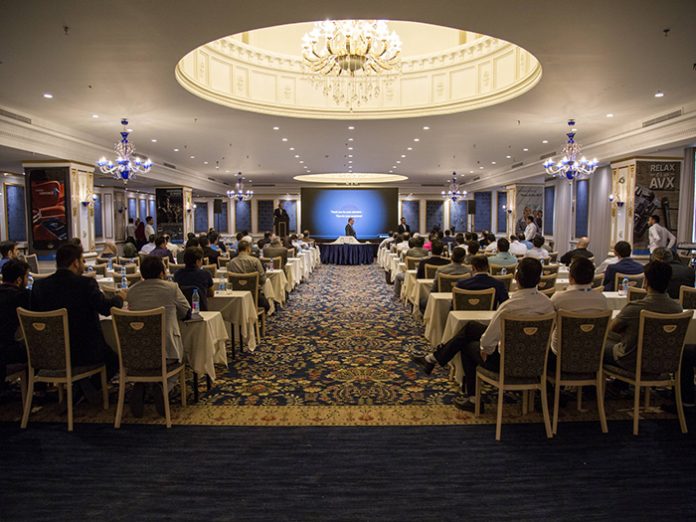 As a part of 'Sound Academy', an ongoing set of roadshows across the Middle East, Sennheiser has successfully conducted two events in Iran and Jordan, in collaboration with its partners ERTEBAT Co. and Advanced Solutions respectively. While both events were conducted in May and followed a two-day format, the roadshow in Iran was tailored to end-users and focussed on Sennheiser's Audio for Video and Business Communications product ranges while the event in Jordan had a split focus on microphone technologies and RF management for rental companies and installers, and Business Communications solutions for end users and consultants.
Commenting on the importance of conducting such events, Mostafa Ghamari, Brand Development Manager at ERTEBAT, said: "I believe that at this moment, the presence of well-known companies like Sennheiser beside their distributors in Iran can positively impact the market more than ever. In order to meet our purposes, we introduced new products over two impressive days. I was very happy and honoured by the quality and number of attendees, and look forward to further collaborations with Sennheiser."
This sentiment was echoed by Sami Janho, General Manager at Advanced Solutions, who added: "The seminar fully met our expectations. I would like to thank Sennheiser's presenters who were very well prepared and covered the subjects professionally. The hands-on sessions, which captured the attention of all attendants on both days, were excellent and really added a significant value to the seminar."
The first day of the roadshow in Jordan, which was attended by rental companies, venue/hotel AV teams and MI resellers, focussed heavily on microphone technologies and RF management for events. Sennheiser highlighted its new Speechline Digital Wireless microphones and elaborated the difference between analogue and digital RF technology. Consultant and end-users who attended the second day were treated to hands-on sessions with the latest solutions from Sennheiser's Business Communications portfolio, including the newly launched TeamConnect Wireless and TeamConnect Ceiling systems.
In contrast, the event in Tehran was aimed entirely at end users and consultants and saw over 80 attendees each day. The first day provided participants with an overview and insight into the complete Sennheiser portfolio of products designed for Film, Broadcasting and ENG work flows, while the second introduced and explored the audio specialist's offerings for the Hospitality, Corporate, Government and Education sectors. Among the products demonstrated were the AVX, Digital 9000 Series, evolution G3, LSP500 Pro, and Tourguide systems. Sennheiser also used this opportunity to showcase studio monitors and microphones from Neumann.
Shadi Sa'id, General Manager at Extreme Event Productions (Jordan), commented: "The Sennheiser Sound Academy seminar, which was very well organized and well presented, has been a great forum for learning about the reliability, flexibility and ease of use of Sennheiser wireless audio systems. One of the best aspects of this seminar was the hands-on. Now, I'm really considering obtaining Speechline Wireless microphones as they will be a perfect fit for my rental business."