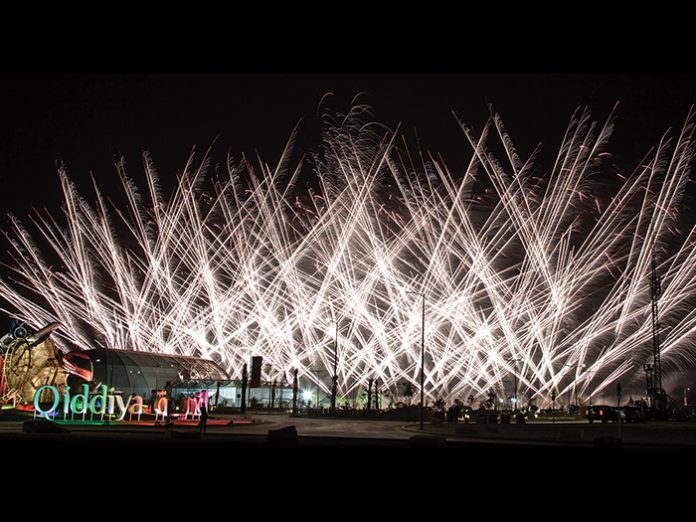 Record-breaking build times were achieved at the Qiddiya entertainment, sports and cultural destination recently in Saudi Arabia by deploying the next generation of semi-permanent buildings.
Eventually covering 334 square kilometres Qiddiya – the first of its kind entertainment resort and in Saudi Arabia – is one of three 'Giga projects' at the heart of the ambitious Saudi Vision 2030 national transformation strategy intended to expand and diversify the Saudi economy. Once complete, the Qiddiya entertainment district located 40km from Riyadh is planned to be 2.5 times the size of Walt Disney World and will include holiday homes, water parks, cultural venues, motorsports, and a Six Flags theme park.
European temporary building expert Losberger De Boer was contracted by Duvent, the UAE-based events management company part of Meraas Leisure and Entertainment Group, to deploy a range of next generation, semi-permanent buildings: administrative offices, visitor centres, plus entertainment and exhibition halls, which were constructed within a tight 60-day completion deadline.
In total, Losberger De Boer deployed fifteen semi-permanent buildings of varying sizes and shapes at Qiddiya offering both style and functionality by combining eye-catching, contemporary designs with the optimum use of space. Its iconic circular Panorama Dome, the only one of its kind in Saudi Arabia, was used to welcome King Salman at the official launch which took place earlier this year.
Sustainability is a key feature of the semi-permanent building solution, as the buildings can be dismantled and reused in a new location as and when business conditions change. Given most models are already factory manufactured, temporary structure use is a zero carbon choice compared to a new permanent building. Furthermore, the latest insulation technology deployed produces a 40 per cent decrease in the use of power for HVAC compared to more traditional temporary structures, driving substantial economic and environmental benefits for customers.
Waleed Khaled, sales director of Losberger De Boer Middle East, added: "Qiddiya is part of the Saudi Vision 2030 national transformation plans to increase household spending on cultural and entertainment activities inside Saudi from the current level of 2.9 to 6 per cent. In total, our crew worked 9,360 hours over 36 days plus internal fit-out time. This allowed turnkey delivery of this project to be achieved within only 60 days, compared to one to two years for traditional permanent builds. This is a key capability our company is known for.
"Sustainability was also a key concern for the developer and ourselves, so in light of this we were pleased to be able to deliver our ISO 14001 environmentally certified building solution that ensures the needs of the planet were carefully balanced with delivering optimal business performance, while providing an unrivalled visitor experience to guests," concluded Khaled.
Losberger De Boer delivers a range of temporary building solutions to clients across all GCC countries, including over 400,000 sqm of temporary structure stock materials across 70 systemised building products, with build times ranging from only five days to four weeks on most projects.