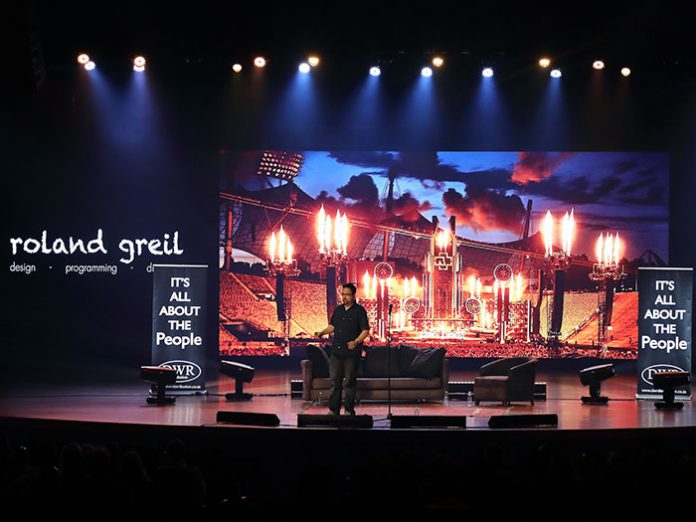 On 18 February, DWR Distribution welcomed legendary lighting designer, director and programmer, Roland Greil, who put on a lighting workshop at the Mosaïek Teatro in Fairland, Johannesburg.
Having worked with the likes of The Rolling Stones, Adele, Phil Collins and Rammstein over his many years in the industry, Greil shared some of his vast experience with a packed audience of around 170 professional lighting designers, lighting operators, students and fans.
Sharing the stage with one of South Africa's most celebrated lighting designers, Joshua Cutts of Visual Frontier, the session focused on concert touring lighting and the Rammstein production. Greil also explained his process of putting a show together, from the initial idea through to the production design – emphasising that the success of any project relies on teamwork.
"I'm very grateful to Roland and Joshua for giving their time," commented Duncan Riley of DWR. "It's important to pull inspiration from people and it's great for youngsters to see that, with hard work and imagination, all things are possible."
The workshop was the latest of three that the LD has delivered in South Africa in conjunction with DWR since he was introduced to Riley by Sarah Rushton-Read of The Fifth Estate at Prolight + Sound in 2015.
The first course in 2016 focused on lighting design, video mapping and the realities of working on a production, while in 2017 Greil joined forces with Patrick Woodroffe, where the pair delved into the history of rock 'n' roll lighting, illustrating their presentation with slides and videos pertaining to The London Olympics 2012, Michael Jackson's show that never was and an Adele concert.
With the industry in general lacking support for youngsters, Greil reflected on the importance of sharing his knowledge. "I wrote a book a few years ago about creating a lighting design – it was something that was missing when I was young. In Germany to date, there is no formal education on lighting design – it's all learning by doing," he recalled. "It would have helped me a lot if I had the opportunity to listen to someone who had the experience. I am hoping to give something back to the up-and-coming youngsters and hopefully, they'll realise their dreams, no matter how big they are."
Greil has been privileged to work alongside some of the most revered talents in the industry, including Patrick Woodroffe and Adam Bassett. "I learned from them but also built my own opinion and my own way of doing things over the years," he said. "I'm still enjoying it and I always use the analogy that it's like being a kid in a toy store. The only difference between man and boy is the size of their toys."
Cutts added that the South African market is "yearning for information". He commented: "Our industry wants to learn as much as it can from the international market. To have someone like Roland share his stories on productions that we've all seen and wondered how they pulled it off, is a fantastic experience.
He continued: "In the South African market, our minds are exploding with ideas and ways to explore the industry. We have such an intelligence base of lighting designers and operators in the country that just don't have access to massive amounts of equipment, and we have to think of new ways to implement the ideas with the tools that we have."
The event drew attendees from far and wide, with three guests in particular making a special effort to be there – Willam Moter, Aobakwe Seanego and David Ratsima, who made the mammoth 10-hour drive from Gaberone in Botswana.
"When I heard that Willam, Aobakwe and David travelled all the way from Botswana to join us, I was so humbled," Riley revealed. "It reminds all of the DWR family why it is so important to keep supporting the people – because we, as an industry, have the power to empower people and change a few lives, which is what it should be about."
He concluded: "A big thanks to the DWR team for putting this event together and, last but not least, to the Mosaïek Church for hosting us."
Photo: DWR Distribution