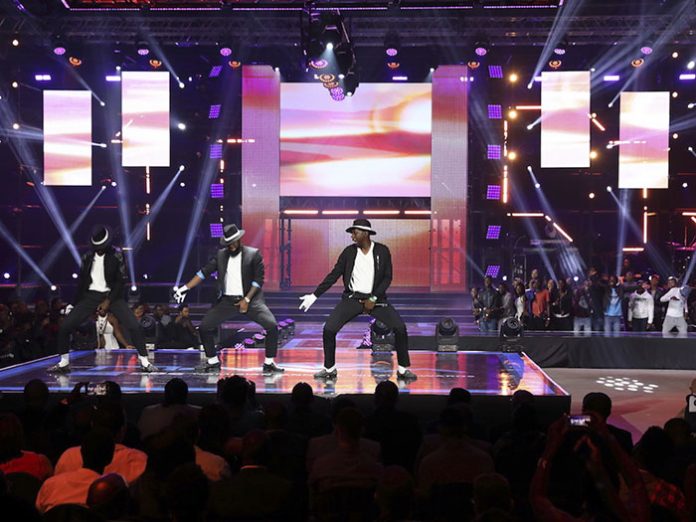 Walvis Bay, an extraordinary city on Namibia's coast, was the location for the 2017 Namibia Annual Music Awards which was both a livestream and live broadcast on the NBC platform.
Micky Lehr from EventPlus has headed the technical production for the NAMAs since 2015 and had a clear vision of what he wanted the show to look like in 2017. A substantial amount of Robe gear, with 12 Robe Squares being a predominant feature, ran off a grandMA2 control system. "This year's production design relied heavily on lighting as the set mostly consisted of scaffold structures," Lehr explained.
"I believed that Joshua Cutts from Visual Frontier,  would be the right man for the job. So, I approached him to see if he was keen on the project and he happily obliged. He did an amazing job by providing a wonderful palette for Operator Andre Siebrits, also from Visual Frontier. We then had to scrape together every single light fixture that we could find in Namibia."
DB Audio, Windhoek supplied the bulk of the light fixtures, trussing and rigging. Windhoek based rental company MikelJes were the main contractors, who supplied Audio, AV, staging and most of the crew for the event.
"It was the first time that I had worked on the awards," said Michael Vermeulen, owner of MikelJes, who was the go-to man between Micky and the technical team. "I've always wanted to be involved. You can tell when a production is managed with passion and I wanted to be part of it."
MikelJes had just bought 3,9mm screens which were sufficient to supply the stage L+R portrait screens and the US centre info screen and for the balance supplied 12mm mesh for the six nomination screens. They also provided the JBL Vertex audio system which was purchased just prior to the show.
"The suppliers really put their weight behind the project and dealt with the challenges on and off site," commented Lehr. "NAMA's is a Namibian production , we therefore try to source whatever is possible in Namibia". Some specialised gear, a head rigger and crew boss needed for the production had to come from SA and Lehr turned to Johannesburg based, MGG Productions.
"Every year the NAMAS are staged in a different town in Namibia," Lehr elaborated. "This year we were in Walvis Bay which added to the logistical and operational challenges." The venue is brand new and had never been utilised for an event prior to the NAMAs. The setup was done over five days followed by four days rehearsal. "On Friday we stage the much smaller Industry Awards in the same venue as the main awards on Saturday night. This schedule makes for long hours for the engineers and the crew and then there is the sand that gets into everything."
Despite the tight schedule, and very little time between the client's brief, design and load-in, the crew really rallied together during set up, and all challenges were soon forgotten when Lehr saw the first programmed lighting state. "In the first lighting session, you are able to see for the first time what the set will do for you and how well the AV integrates with lighting," he said. "Until then, it's all just in your head. And then there is the highlight when it finally comes together on the night, when audio, lighting, AV, the band, the artists, dancers and presenters collaborate into one beautiful symphony."
While Lehr had been responsible for the production and set design and expressed how he wanted the lighting to look, Joshua Cutts created a lighting rig with what he thought would work best to put the vision into reality. With an extended workload, Cutts is unable to be on site for every single lighting design project and sent Andre Siebrits from his company to implement the design on his behalf.
"I was extremely proud of Andre and how he delivered as per the client's brief," said Cutts. "Our main challenge was to use the black space around the scaff and to get beams to punch through. We wanted to make a feature out of the Robe Squares, which is not an approach we use often. The Robe Squares are dynamic and versatile to use, and looked fantastic on camera, creating all the effects we wanted."
Clear panels in the venue's roof and most rehearsals taking place during the day, meant that Siebrits could not exactly tell what his performances looked like until night time when it was time to do his notes.
"The roof was low which caused front-light to be steep in some places and shallow in others, but the Robe BMFLs were great and so it turned out well." he said. Lighting control consisted of two grandMA2 light consoles with two NPUs and a grandMA VPU for pixel mapping. "The grandMA2 was perfect," continued Siebrits. "I was once again impressed by its multi-user functionality and how seamless MA makes it happen. The VPU is amazing for pixel mapping because it integrates so easily into the MA system and creates nice eye candy effects. The set and lighting design found a middle space between symmetrical and asymmetrical ensuring that there was a formation to the rig, and having all the lights in the right places made my job very easy on site."
The lighting rig included: 4 Robe BMFL Blades, 8 Robe BMFL Spots, 12 Robe Squares, 24 Robin Pointes, 16 Robin miniPointes, 16 Robe Robin Spikies, 12 Robe 600 LEDWash, 18 Robe 300LEDWash, 30 Robe Robin LEDBeam 100, 12 Robe Robin 1000, 12 Robe Spiiders, 8 Robin 600E Spot, 12 Philips Nitro 510C Strobe, 60 Longman Battens, 60 Led Parcans, 24 Single Cell Blinders, 8 Chauvet Core 3×3, 12 2 KW Selecon Fresnel. Control consisted of 2 grandMA2 Light, 2 grandMA NPU, 1 grandMA VPU Light and for the haze effects, a MDG Atmosphere ATME.
"I would like to thank EventPlus for the opportunity to work on the NAMAs," said Siebrits. "They were great company to work with. Micky Lehr was always clear about his vision for the show and it was a pleasure implementing it. Max Lehr, the Production Manager and Jessica Lehr, the Technical Producer were always there for support and are a vital part to make this an exceptional show."
Marcell Wahl from MGG was the Systems Tech and Siebrits's assistant programmer. "He was great to have as an assistant programmer and helped to give a few songs a different dynamic with his creative ideas. The two main LX Techs, from Windhoek, were Ramon Le Roux and Gillroy Barmann. They were such a help and so friendly. Their passion for the industry is remarkable and commendable." Siebrits added.
Lehr sings the praises of every person involved. "Johan Griesel on FOH dealt with all the curve balls thrown at him, provided exceptional audio as always and smiled until the very end. AV was superbly managed by Stefan van der Walt of CI Nation, despite a number of last minute changes to the content. Andre Siebrits seamlessly executed Joshua' s design with 348 light fixtures on the stage despite the limited programming time."
Training and skill transfer are two subjects that have always been close to Lehr's heart.
"This is what built the live event industry in South Africa. "It is also why it's imperative to bring very experienced and highly competent engineers to events like this to transfer skills and provide on-the-job training for the local crew and technicians. We have seen how technicians who have been part of the NAMAs for the last three years have individually grown in their field." he said."We work with a relatively small crew on this project, which results in long gruelling working hours, and despite that, the crew stayed keen and enthusiastic to the very end."