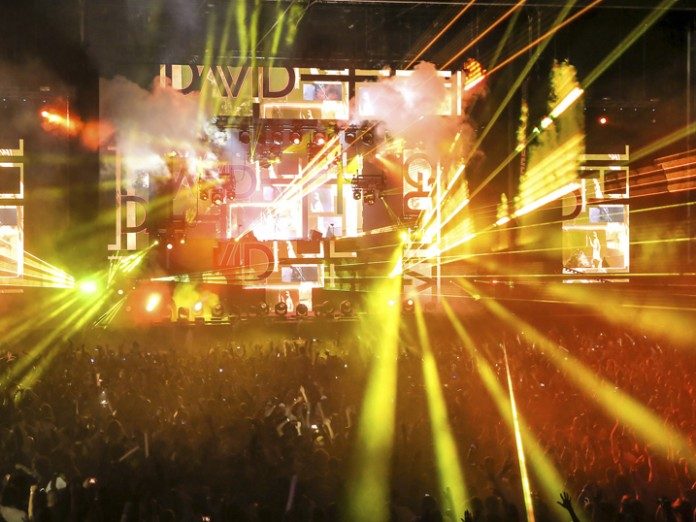 Dubai based eclipse Staging Services supported one of the biggest and most anticipated New Year's Eve celebrations in the region; the David Guetta NYE party. The company provided full technical supply alongside special effects support from Stage FX and lasers from Laser Grafix.
The event took place in the Dubai Media City amphitheatre, a venue that the eclipse team are well acquainted with, a fact made apparent by the lack of changes requested after the initial rigging structure was built. "Nothing had to be changed, from the moment the client walked in, not even the trim heights of the trusses," said head of rigging department, Neil Spencer.
The eclipse audio department used 32 d&b J-series for their main system, 16 J-sub, six J-infra and eight V-subs in sub array, eight Y-series for the front fill and eight V-series per side for the out fill with 29 D80 and four D20 amps. For control, FOH used an Avid Profile plus two Avalon 737sp while the system control and analysis was via a d&b R1 running on a Mac Mini, two Lake LM44's remotely operated on a Surface Pro tablet and SMAART Live running on a MacBook Pro with Focusrite sound card and an Earthworks M30 mic. For the main act, David Guetta's monitors included 6 L-Acoustic dvDOSC and two dvSUBS running via one Lake LM44 on LA amps and the supporting act, Mad Jams, used four d&b Y-series subs and two M4 monitors running on d&b D80's. The DJ kit was a combination of eight Pioneer CDJ2000 Nexus, two Pioneer DJM 900Nexus and two DJM800.
"This event constituted the largest d&b sound system ever deployed in Dubai. It was a pleasant way to finish a very busy year with a nice large system to a packed venue," stated John Parkhouse, Head of Audio at eclipse. "I was in contact with David Guetta's FOH Engineer, Carlos Herreros, well in advance of the load in, so together we fine-tuned the requirements to meet his and our expectations. We were very satisfied with the results, running fully AES/EBU and the fully Array Processed system was simply stunning."
FOH, Monitor and Systems Engineer for David Guetta, Carlos Herreros commented: "From the first email I shared with eclipse, I knew this was going to be a great show. The audio spec was spot on from day one, and they also sent me several weeks in advance a fantastic Array Calc file with a flawless PA design. You gotta' see it! So I was able to relax and forget about this gig until show day. Once we arrived on site my suspicions were confirmed and it was a beautifully presented system. John did a perfect job with the system design and optimisation. Any concerns I had he knew exactly how to tackle them. We get d&b many times a year all over the world, and I have to say this has been the best, by far, I have ever had. The amount of detail was superb and beautiful, and the sub array John designed was impeccable and super sweet sounding, without losing any impact, complementing the tops perfectly, and with a great coverage in a very wide arena. I've missed John a lot ever since. But even better was the whole of the eclipse crew and production team. They were fantastic. They made us feel very welcome and very much like home. It was a true pleasure working with them all. I can't wait to go back to Dubai and do another great show with them."
In terms of lighting, there was plenty of equipment to please the eye during the day and as the sun set to display the stunning light show run by our senior Lighting Technician Craig Ralph. The kit included 30 Martin Professional Mac Vipers, 44 Clay Paky Alpha wash 1500, 24 Clay Paky Sharpys, 35 Martin Professional Atomic Strobes, 73 Sunstrips all controlled by two High End Systems Hog 4 consoles.
To heighten the New Year's Eve celebrations, Stage FX was called in to supply an explosion of confetti at midnight, using its new Magic FX Stadium Shot X-Tremes, capable of a 50m blast, paired with a collection of its Magic FX Power Shots, Flamaniacs and CO2 Super Blasters XL for intervals of flames, streamers and C02. Rory Inker, Senior Technician for Stage FX commented, "It was great getting to put our new Magic FX Stadium Shot X-Tremes to use, they performed as to be expected of any Magic FX equipment, rock solid."
"It was nice to be able to provide exactly the same laser specification as David Guetta's European show, giving the UAE audience the same full laser experience which is quite often not the case with UAE concerts", explains managing director of Laser Grafix Arran Hopkins.
Technical production manager from eclipse, Duncan Shortt concludes "It can be a very tricky path to navigate, balancing the AV content of the warm up DJ's prior to the headline act. I have been to shows in the past where the number of restrictions both in terms of sound levels, number of lighting fixtures being used, and complete lockout from the video screens prior to the headline act have in my opinion basically spoilt what could have been a spectacular event. The balance which we had with Guetta's production team was fantastic though, and there was clearly quite a party in full swing by the time he got to the stage at midnight."