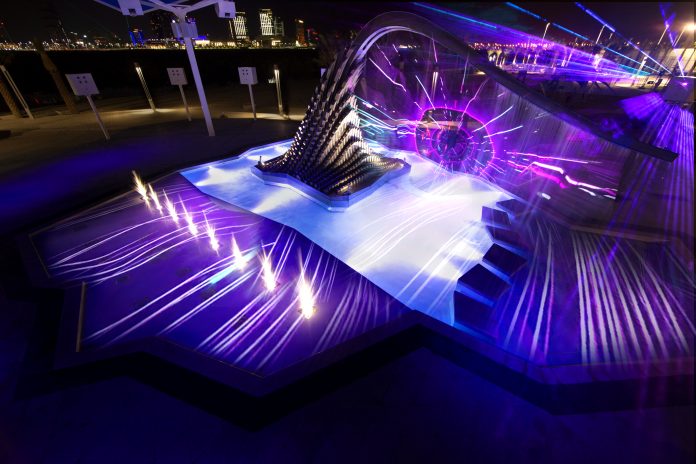 After opening on 1 December 2018, Reem Central Park continues to provide unique entertainment activities for the public at Reem Island, one of the fastest-growing communities in Abu Dhabi.
Among the activities and offerings at Reem Central Park is LASERVISION's newest artistic sculpture and land-based multi-media experience known as 'The Wave', which features beautiful dynamic fountains, rich projection content, powerful lasers, special effects, and underwater projection mapping.
Built as a bespoke entertainment solution and standalone art piece for Reem Central Park, 'The Wave' continues to deliver incredible entertainment experiences and activations throughout the year. The first two months of 2019 has already seen the ringing in of the New Year on December 31st, 2018 and again for the celebration of the Lunar New Year in February as well as many other unique activations.
"As a fully re-programmable and experiential installation, 'The Wave' has been met with great success as we continue to celebrate important events in the region.", said Mr Shannon Brooks, CEO, LASERVISION. "We greatly enjoyed celebrating The United Arab Emirates' 47th National Day and honouring "The Year of Zayed", as well as celebrating the New Year and Lunar New Year."
Visitors to Reem Central Park can view the unique activations throughout the Day and Night and can enjoy the many other experiences on offer around the property.
Reem Central Park has sports facilities, skating arena, playground, community lawn, canal walk, city beach, retail centre, and food outlets.