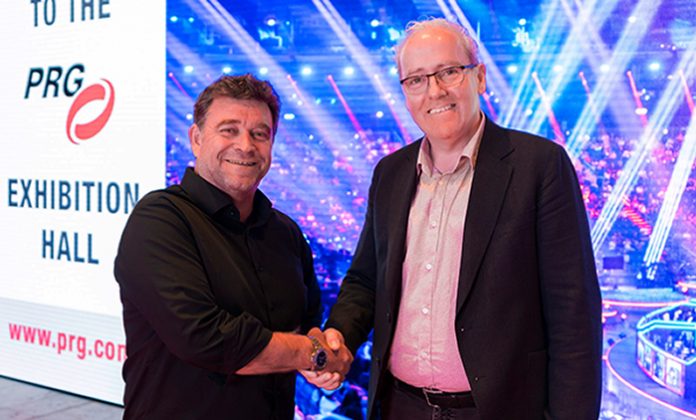 Production Resource Group (PRG), has acquired the Middle East division of Delta Sound, Delta Sound UAE, a specialist provider of live audio and event communications technology based in Dubai and operating across the Middle East. Peter McCann, CEO for PRG in the Middle East and Andy Jackson, the Managing Director of Delta Sound, jointly announced the acquisition.
Delta Sound founded in 2006, will join forces with PRG's operation in Dubai, forming a welcomed union between the two companies who have collaborated successfully for many years across a broad range of corporate, government and large-scale special events. Like PRG, Delta Sound provides technical design and technology support to both local and international production houses who benefit from the high standard of service and delivery offered.
 For PRG's worldwide clients, this acquisition means that they will have access to additional expertise and technology when working with PRG in the Middle East and beyond. "By acquiring Delta Sound we have bolstered our existing offering for our many customers who produce events and shows internationally", said PRG's McCann. "I'm also delighted that this acquisition integrates comprehensive event communications into our product offering thus ensuring that we can present a truly turnkey solution to our customers and partners. With events such as Expo 2020 on the horizon, these are certainly exciting opportunities for a company that can operate at scale and this acquisition demonstrates both a significant level of commitment to the region and a continued appetite for growth."
 "As Delta Sound, we have worked on some of the region's largest and highest profile productions," commented Jackson. "We have established a loyal client base that has become more appreciative of the standard of audio production and event communications being delivered today by Delta. Having worked closely with PRG for several years across many of these events, our partnership has naturally evolved into a trading relationship and today we solidify this to the benefit of both our clients and teams." It will be business as usual and Delta Sound will retain its existing operational format and be officially titled 'PRG deltasound" during the transition process.
 Stephan Paridaen, PRG's Global President and Chief Operating Officer, concluded: "PRG and Delta Sound are extremely well positioned to provide a multi-disciplined, integrated solution. Making the UAE Delta Sound team part of the global PRG family will be extremely valuable to our clients and this has been our top priority from the start."
 Paul Keating, MD of Delta Sound UK commented: "Myself, Mark & Andy go back 40 years together and Andy has been involved with Delta since our humble beginnings back in 1988. He has done an amazing job in building and managing the business over the past 12 years. We have always had a very good working relationship with PRG both here in the UK and in the Middle East and this is a great fit for Delta UAE becoming part of the extended PRG family. We very much look forward to continuing this relationship together in the future."