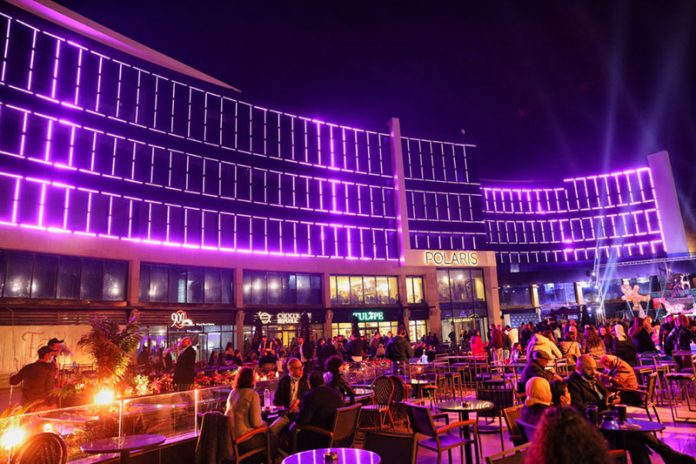 Egyptian developer KVRD has selected a MITA (Magic In The Air) system for its new Polaris development in Cairo.
Developed by Syncrotek Holding and led by award-winning Lighting Designer, Mohamed Ghanem, MITA is "a mix between technology, art and destination marketing". The delivery at Polaris comprised the conceptual design of lighting visuals; an acoustics solution to reduce ambient noise from the surrounding highway; design and supply of the audio system; architectural lighting design; architectural light design of the media façade; design for custom polar lights; and design and manufacturing for custom subwoofers.
"The identity of Polaris came to fruition through our vision to ensure it is the skylight of the community and a standout star among competition, which is why we decided to be the first in Egypt to introduce the MITA Magic in the Air concept in Polaris," commented KVRD Marketing Director, Mai El-Sibaie. "The concept matched the identity and vision we had created for the destination and turned the identity into a reality that each visitor would experience."
The manufacturer behind brands such as Waveburg Pro, Nox Audio, WCAD Amplifiers and Lumina Pro, Syncrotek Holding supplied a range of fixtures for the project.
A total of 700 Lumina Pro L1810-DM linear LED pixel lines were used, along with four XL-1200 Ultra Wide LED Washers, 16 AD-8512 ARTNET-DMX, and a MITA BOX PMV media server.
The audio system comprised 32 Waveburg Pro ICX8 G2s and seven custom subwoofers, as well as four WCAD WDQ-800, two WCAD WDQ-2000, and four Nox Audio PA-800 amplifiers. A further 80 Nox Audio CLC-8 in-ceiling speakers were installed, as well as 32 Spirit-6 wall-mounted speakers. Processing was handled by a Wyred for Sound music server and DAC, as well as a XILICA XD-4080 processor.
El-Sibaie concluded: "Our partnership with Syncrotek Holding was a natural choice due to their innovative technology and reputable international portfolio. They completed the missing piece in Polaris' experience puzzle where every visitor can indulge in a diversity of cuisines and cafes, while children enjoy designated entertainment areas, all the while magic is happening in the air."