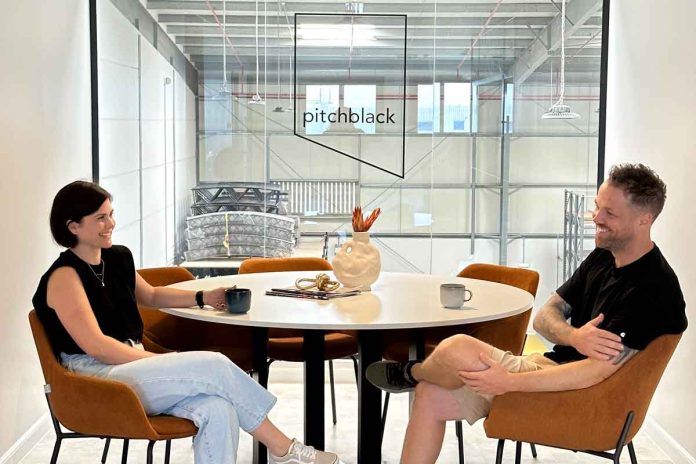 Founded in Dubai in 2018, Pitchblack started life as a specialist draping rental company aiming to fill a gap in the market. "There were companies selling fabric, but when clients wanted to drape a ballroom, they would often have to buy the drape. It became so expensive that it was cost prohibitive for a lot of clients," recalled Founder and Technical Director, Mark Hammond. "I also found that whilst some companies did own drape, it tended to be an afterthought and stocks were poorly maintained."
In response to this, Hammond, who was working as a freelancer rigger at the time, decided to launch Pitchblack, to provide cost effective rental drapery solutions to the market. "We originally thought it was going to be a side project that would create some extra revenue, but it soon took on a life of its own," he recalled.
Sarah Hammond joined the business as Managing Director in 2021, and the husband-and-wife team took the bold step of throwing everything into Pitchblack, recently launching a rigging division to go alongside the drapes. "The business had reached a point where it needed more attention, so Mark decided that he wasn't going to take on any more freelance work and instead would focus on Pitchblack full-time," recalled Sarah, who also worked in the industry as a PM on several high-profile projects including the 2012 London Olympics Games and 2014 Sochi Winter Olympics prior to getting involved with Pitchblack.
It was a big leap of faith and one that looked to be paying off until the pandemic hit, wiping out the live events industry almost overnight. "It certainly took the wind out of our sails," Sarah reflected. "However, we knew from what we'd seen in that short period that there was potential, but we needed to go all in to make it work."
That confidence proved to be well-placed, as Pitchblack picked up a large-scale delivery in Al Wasl Plasa during Expo 2020. "With travel restrictions to and from the UK still in place, Stage One Creative Services used Pitchblack as their local partner,  subcontracting the installation of some high level lighting brackets in Al Wasl Plasa to us," Sarah recalled. "We took it, and that demonstrated our capability," Mark added. "Both Sarah and I had prior relationships with Stage One, but it was still a big show of faith from them, and a big show of confidence from us to take on such a high-profile project. Thankfully, it worked out very well for both parties."
The company is now operating at higher than pre-pandemic levels, with both the draping and rigging sides of the business growing exponentially. To handle this growth, Pitchblack has invested in a significant amount of equipment, significantly increased its workforce, and moved from its 5,000 sq ft space in DIP to a brand-new 20,000 sq ft facility in Jebel Ali.
"We'd had visited Fruition Events and Clair Global in their facilities in Jebel Ali a few times and a place in the same block came up," Mark revealed. "We thought, if we're going to invest as much as we have in kit and people, why not back it up with a proper HQ that we can be proud of?" Sarah added: "We wanted a setup that would show our employees how much we care about them and want to invest in them and provide a nice place to work. Although it's a massive move, it futureproofs us and means we don't need to move again any time soon."
With rapid growth comes added challenges – the biggest of which is the increasing burden on the company's Technical Director. "The challenge is how we continue to grow, knowing that Mark is only one person, and a lot of the rigging bookings we get are on the strength of him as a rigger," said Sarah. And as if to prove the point, just days after our interview, Mark walked away with the coveted Rigger of the Year title at the TPMEA Awards 2023. "It's a work in progress,, but we're moving towards the point where Mark can loosen the reins a bit and have more of an overarching remit. We're really focusing on bringing together the right people to ensure that we maintain delivery standards onsite.said Sarah.
Another challenge is the seasonal and often last-minute nature of the industry in the UAE, making it something of a guessing game to know exactly how much resource will be required at any time. "We know that jobs will come in at the last minute, so we must balance the cashflow, resources and equipment, making sure we have enough capacity when the work comes along but not over committing," Sarah explained. "It's an estimate; you have to take the punts, and we are getting braver at taking those risks," she said, adding that the company has begun to block-book  freelancers for the upcoming busy season in anticipation of an uptick in demand.
It's easy to forget in among all the talk of turnover, recruitment and procurement that the Hammonds also have the unusual situation of being business partners, husband and wife, and Mum and Dad, all rolled into one. "We wear so many different hats, it's sometimes hard to separate work life from home life," Sarah acknowledged. "The most difficult part is we sometimes forget how to communicate with each other; we get to the end of the day and we're still talking business when we get home. The to-do list is never ending, and the prospect of a laptop free family holiday any time soon is almost unthinkable!"
Looking to the future, the duo are keen to continue investing for the long term. "We will encourage people to step up into new roles and support their growth," said Sarah. "We started with a young, inexperienced team and invested time and money in training them up," Mark added. "I'd rather have someone with the right attitude than a long CV. Someone took a chance on me in the early stages of my career and I'm a big believer that anyone with the right attitude deserves that chance."
The pair have a 'quality over quantity' ethos that runs throughout the company. "I'd rather grow gradually than try to push too hard and let our standards slip. We want organic growth and that bears out with the amount of repeat customers we get," Mark commented. "I can't see us being a huge dry hire company or competing with AV rental houses in the future – it's not of interest to us. I'd rather be boutique than big."
Photos: Pitchblack