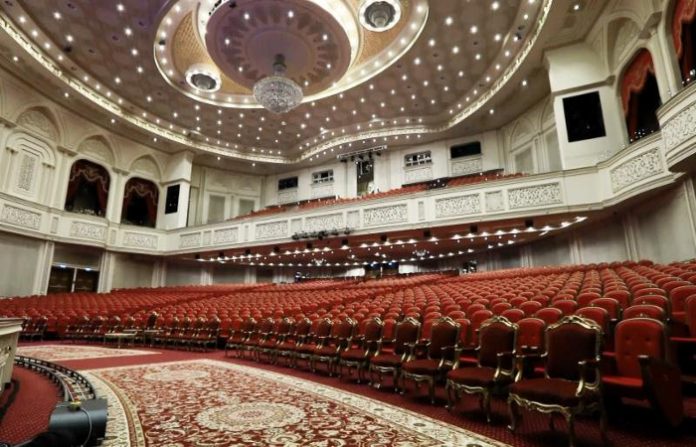 Philips Lighting has announced the new National Army Conference Center in Cairo, Egypt has utilised a state-of-the-art lighting system, and data infrastructure from Philips Entertainment Lighting to illuminate its 1,700-capacity main auditorium.
Working closely with local specialist installer Egyptian Engineering Projects (Quality Egypt), Philips Lighting's sales and technical teams from both EMEA and USA provided comprehensive on-site support throughout the project, helping to ensure the efficient completion of the installation.
Chosen by the venue owner, the Engineering Authority – Armed Forces, in close collaboration with Quality Egypt and consultant DMG Technologies, the stage lighting system includes more than 240 Philips Lighting luminaires. LED technology dominates, including Philips Selecon PLfresnel1 MkII, PLprofile1 MkII and PLcyc1 MkII luminaires, plus more than 80 LED-based Philips SL Punchlite 220 fixtures.
"Philips Lighting's light quality is excellent," said Eng. Adel Attia, CEO of Quality Egypt. "It enables the theatre to be suitable for any kind of application, whether concert, theatre or conference. In addition to its low energy consumption, it is a solution with a very effective performance."
Philips Vari-Lite VL4000 Spot and VL4000 BeamWash were specified as the venue's main moving lights. Attia explained: "The VL4000s offer great quality and complete dependability, with all the features we could need. To have so many functions available in one luminaire is also very convenient and cost-effective. What's more, the Philips Vari-Lite products have an outstanding legacy and the support from the manufacturer and its technical team is first-class."
The lighting control infrastructure employed a Philips Strand Ethernet data distribution system, with Philips Strand EC21 dimming for the conventional element of the lighting rig. Attia says, "We have installed Philips Strand dimming and data network systems in a number of other projects, so we are very familiar with them. They're stable, modular systems, flexible and dependable."
The finished system has exceeded every requirement, from power consumption to output and performance. "We estimate that the power usage is 60% lower than it would have been without the LED lighting," added Attia. "It has all performed very well and the client is extremely happy with the installation.
Attia continued: "We would like to thank our Projects Director, Gamal Elmorsy, who led the project for Quality Egypt, and all our team who worked hard to achieve this outstanding project. Our thanks also to the sales and technical teams from Philips Lighting, whose experts have provided so much invaluable support on-site and throughout the project, from an early stage."
Grant Bales-Smith, General Manager EMEA, Philips Entertainment Lighting commented: "Our broad catalog of professional stage lighting technologies offers a unique choice of solutions for top-end installations of this kind. We are delighted to be the brand of choice for this important and prestigious new venue, in which we have proved that our products are the right choice for similar projects of any scale."