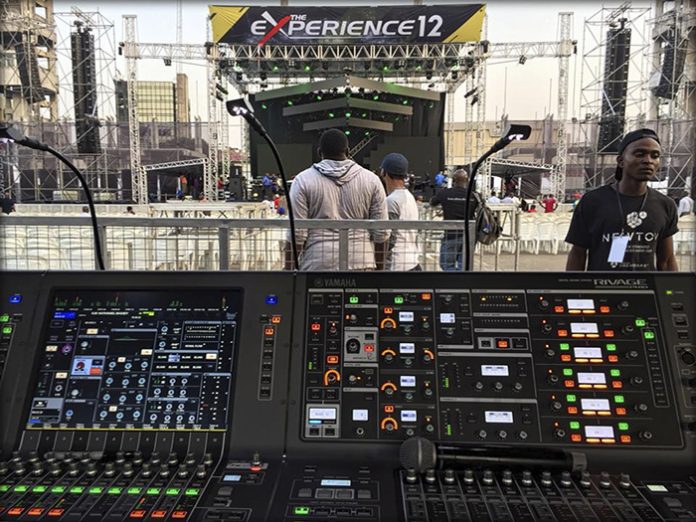 The Experience is an interdenominational gospel concert held annually in Lagos, Nigeria. Convened and hosted by Pastor Paul Adefarasin, the event debuted in December 2006, and is now the largest musical concert in Africa.
Lagos-based CyTech World Communication provided the audio infrastructure. 2017 is the 5th consecutive year in which CyTech and its Outline loudspeaker systems have been entrusted with the responsibility for reaching every corner of the audience area within the 280m × 200m Tafawa-Balewa Square.
A long-standing client of Outline, CyTech's owner, Cyril Utomoibor, deployed numerous Outline products from his inventory, including: Butterfly, GTO C-12, LAB 21, DBS 18-2, DVS, Doppia, Subtech 218 and others, but for the 2017 event he extended his investment in Outline with the purchase of its flagship GTO system.
Outline's Vinnie Perreux was on hand as System Technician. He stated: "I started with the Outline OpenArray1 file containing the system design used in previous years, which I sent to Steve before we flew out and he was happy with it. The 2017 project was designed on OpenArray2 and helped us to figure out in advance the correct location of all the loudspeaker positions so that we could achieve the correct coverage in both planes and the average SPL he was looking for across the venue. Additionally it also allowed us to blend the areas being covered by different types of Outline cabinet so that there was seamless audio everywhere. We knew what the results would be before we even turned the PA on, which was a massive advantage for an event like this.
"From a system viewpoint, Steve [Davies] sent me a L/R feed and a mono auxiliary send to drive the system controllers. They in turn provided the stereo and mono feeds for the various loudspeaker locations: main FOH L/R (each comprising 18 GTO, 12 GTO C-12 and 2 GTO-DF downfills), main FOH side hangs L/R (18 GTO C-12 each), rear ground stacks L/R (8 Butterfly each), front subs L/R (16 DBS 18-2), front centre sub (mono 8 SubTech), main FOH subs (mono 4 LAB 21) plus 6 delay towers (2 comprising 18 GTO C-12 cabinets each, 2 with 20 Butterfly each and 2 using 16 Butterfly) plus a stereo mix for the sound system outside the stadium."
Perreux concluded: "I saw 3/4 of a million people dancing and singing from 5pm to 6am, from in front of the stage all the way up to the last seat on the top of the roof, an area 135m long by 35m high filled with Steve's powerful mix. Mission accomplished and a huge thanks to Cyril and his audio crew!"
FOH supervisor Steve Davies was part of a team of 9 technicians from UK-based Subfrantic Production Services Ltd, dealing with everything from sound (FOH, stage and broadcast) through lighting design and operation, set design, stage management, and video content for the stage screens. Davies commented: "Cyril from CyTech added to their inventory for the 2017 event with a healthy amount of GTO, meaning that the rig performed completely differently to the last few years where we were using only the GTO C-12. This meant that the main PA had plenty of headroom, and never struggled to reproduce anything that was asked of it from the aggressive tonal attack of the talking drums through to the more laid back and smoother sound created by Don Moen and his band.
"We look for a minimum even coverage of 115dB across the whole site, and then aim to mix much lower than that, usually 95-105dB depending on the act, time of the night, and of course who's running the console at the time – and the number of people with whistles and vuvuzelas! This year the addition of the GTO meant that we could move the C-12 around and bolster the rest of the rig, so we didn't have to work the FOH too hard in order to cover as much ground as possible – consequently I was sat at around a comfortable 95 for most of the event."
Davies concluded: "I've always been a fan of GTO C-12, I find that it gives me a solid yet defined sound, easy to control but also responsive. Having the GTO added to the system this year relieved all the stress points on a system covering what is really a huge area. We had more bass end, and a rig that felt like it was working well within its tolerances for a show that size. Much credit for our success must also go to Vinnie from Outline, the way he tuned the whole massive rig and generally looked after us was fantastic – thanks Vinnie!"