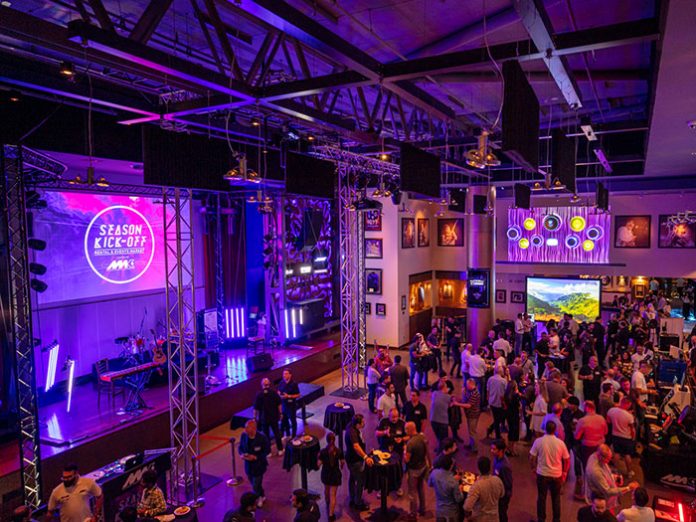 NMK Electronics held its annual Season Kick-Off, bringing together more than 250 AV industry professionals. Held at Hard Rock Café in Dubai Festival City on 3rd September, the eagerly anticipated event signalled the start of the busy events season in the UAE.
NMK's brand partners Astera, Avid, Ayrton, Bose, Clear-Com, Denon DJ, Epson, Furman, Luminex, Mersive, Neutrik, Shure and Terbly were all present at the event. As well as being an opportunity for the brands to showcase their latest offerings, the event provided a chance for the who's who of the industry to catch up ahead of the busy season.
"This event is organised to bring together the AV rental community and to extend our support to our partners, while also providing a networking opportunity for the industry in a casual setting," Dino Drimakis, Business Development Manager at NMK Electronics said of the event.
As well as a range of party games and lucky draws with impressive prizes, the evening was sound tracked by local rockers The Boxtones, while DJ Brooklyn took to the decks later in the night to make sure the party atmosphere was in full swing.
Senior Sales Manager MEA at Shure Chant Utukian was glowing with praise for the evening. "This event has attracted a lot of people from the industry and is another great initiative from NMK," he commented. "Our busy schedules rarely afford us such opportunities to interact with friends and colleagues outside of office hours. Industry nights like these give everybody the chance to meet in a more casual environment, connect and get to know each other personally, which I think is healthy."
Avid's Audio Sales Manager Ansgar Liem offered his opinion on the night. "The NMK team executed this event with true passion for the industry and the attendees," he said. "The mix between high-level technical conversation and entertainment was in perfect balance. I observed many interesting conversations about varying topics for the rental and production market that gave us a good insight into the local business requirements."
For Nittin Dargan, Regional Manager at Bose Professional, the venue holds fond memories. "Bose has been focusing on the rental market for past couple of years with the launch of ShowMatch systems," he commented. "Hard Rock Cafe, Dubai, was one of the first global marquee project for ShowMatch. We are now working closely with our distributor NMK to grow this segment here in UAE."
Abdulnassir Ali, Sales Manager for Visual Instruments and Professional Display at Epson Middle East, was also full of praise for the event. "It is an excellent opportunity to display what Epson does best and showcase solutions that can open doors for the rental and events market. We look forward to a lot of growth and business in the future."
And while the hospitality and entertainment went down well, NMK's Drimakis was keen to stress that, at NMK, the hard work never stops. "With the dawning of Expo 2020, it is crucial for us to mark our presence in the industry," he commented. "We want to let our partners know that we are here to meet their needs and to facilitate all the events that they undertake."