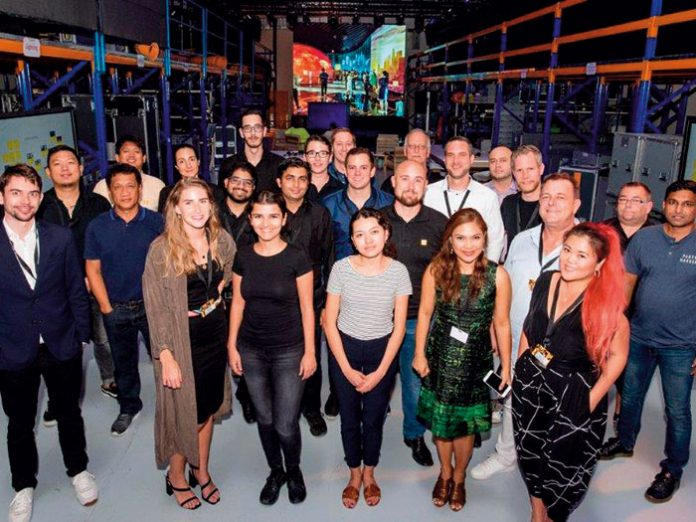 Neumann&Müller Event Technology (N&M) recently hosted its first come2meet event at its warehouse in Dubai Investment Park (DIP).
Gathering a selection of industry professionals, the event showed-off the same state-of-the-art AV technology that the event technology company utilises for its clients' world-class events. Showcasing its newly launched divisions – namely System Integration, Digital Media, and Information and Communications Technology – the event featured an Augmented Reality demonstration and interactive digital media, ICT and SI presentations.
"N&M's full-service, turnkey audio-visual solutions – which help our partners create world-class content and bring their concepts to life – definitely offered us an edge in delivering such a successful event," Senior Project Manager, Sven Schuster, commented.
Transforming its warehouse into an interactive activation space, N&M used RFID concepts to welcome guests, with visitors' names projected onto a purpose-built welcome wall suspended in the middle of the warehouse.
"This gave guests a small taste of the incredible creative work being done at our MediaLab in Taufkirchen, Germany," Schuster noted. "N&M's cutting-edge, interactive MediaLab is where we practically demonstrate the links between various sensors – think RFID, QR codes, radarTouch, Kinect, infrared cameras, touch-screens and database links – and invite people to immerse themselves in interactive and dynamic digital worlds.
"By connecting immersive projections with interactive elements and multi-channel sound installations, we can showcase several interactive options and potential new experiences to personalise events, congresses, trade fairs, permanent installations and exhibitions."
While N&M received plenty of interest about the use of RFID and AR during the event – with the company's head of media production, Klaus Ostermayer, flying into Dubai to do live AR and digital media demonstrations – Schuster was quick to point out that, "while these technologies are not new by any means, the creative ways in which we are using them are".
General manager, Jens Gießler added: "Guests were really impressed with our new RSI service, which we showcased officially for the first time at the event. This incredible method allowed our Head of Development of the Technical Department, Florian Nürnberger, to live-stream his ICT presentation in German from Hanover. Our RSI facility simultaneously translated his presentation into English via our remote hub in Stuttgart, before transmitting it back to Dubai through high-performance IT networks," he continued.
"RSI represents a big step in the development of congresses and conferences, with interpreters no longer needing to be present at the actual event location. Their connection to the 'spoken word' is the data line linking their workplace to the venue and the speaker's microphone via an 'interpreter hub'. With this solution, event organisers increase their flexibility as well as the scalability of their service, regardless of the language, location, duration or size of the event. RSI is definitely one of our most cutting-edge offerings."
N&M announced that it hopes to host events like this regularly, inviting partners and customers to network and interact with the company's most innovative offerings and ideas. "We work with such incredible audio-visual technologies, and we want to show our clients the amazing things they could be ing to take their events to the next level," Gießler concluded.