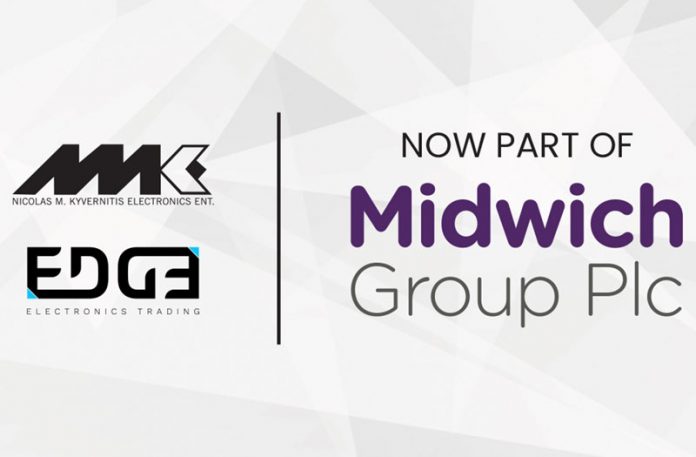 Midwich has entered into a binding agreement to acquire a majority stake in the NMK Group. Based in the UAE and Qatar, the NMK Group comprises NMK Electronics Enterprise, NMK Middle East FZE and Edge, and represents Midwich's entry into the Middle Eastern market.
"This is an exciting day for the Midwich Group," commented Stephen Fenby, Managing Director. "It not only marks the Group's entry into one of the fastest growing AV markets in the world, but also means we now have a presence in all major global territories. This means the Midwich Group has a truly global footprint, and ensures we are able to support our customers across all key geographies."
The NMK Group will continue to be led by the existing management team who will retain a stake in the business, comprising of Alex Kemanes (Managing Director) and Constantinos 'Dino' Drimakis (Director – Business Development) who were both mentored and trained by Founder and Managing Director of NMK Group, Nicolaos Kyvernitis. After serving 33 years in the regional audio industry, Kyvernitis will go on to retire from the business following a period of transition, post-completion.
"NMK has built a strong reputation for service and its value-add model is an excellent fit with Midwich's global offering," Fenby added. "We are looking forward to working with Alex, Dino and the rest of the NMK Group team to support their growth ambitions and to further enhance our group proposition. I would also like to take this opportunity to thank Nicolaos Kyvernitis for his support, and to wish him well in the future."
Kyvernitis commented: "After serving this regional audio industry for almost 35 years, I believe this is the right time to move forward. I am confident that I leave my employees in good hands as Stephen's team share the same vision, which is why we considered Midwich as the only suitable partner for us to move forward. That said, we sincerely wish from the bottom of our hearts the best of luck to Alex and Dino and the rest of the group, in continuing the legacy of NMK Electronics Ent."
Kemanes added: "In line with our objective to become the Middle East's leading AV distributor, both Dino and I consider this merger with Midwich to be the best fit for NMK. We are confident that in Midwich, we have obtained a great partner with a dynamic team, vast geographic reach and immense experience in the AV industry. I look forward to facing the future with our engine roaring joined by a team with a great vision, determination and aspiration."
Drimakis concluded: "Having worked at NMK for over a decade, I feel excited for the next chapter in NMK's history. A merger with a company of Midwich's magnitude was a natural progression. NMK has always been innovating and propelling the AV distribution industry forward in the Middle East. We now have a global partner offering support and services across the globe. Filling Mr Nicolaos' shoes will be an enormous task, which Alex and I feel confident and ready for. We are supported by a solid team of diverse, dynamic and committed people."