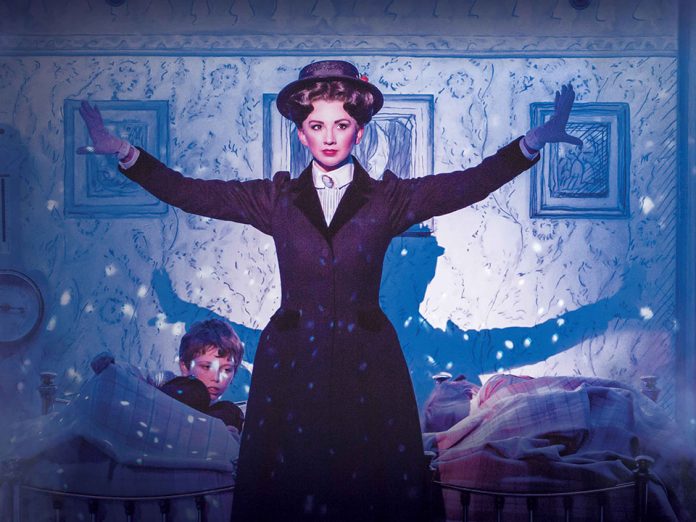 Disney and Cameron Mackintosh's Mary Poppins tour has taken the world by storm. With sell out dates across the UK and in Zurich, the perfect nanny has just landed in the United Arab Emirates where the musical will play to a full house until May 25th.
18 sea containers were loaded with set and stage equipment in order to bring the show to Dubai – except for the rigging and a truss frame for new FOH scenery, which has been supplied locally by Unusual Rigging and Engineering LLC. Chris Boone, production manager on the show, explained: "The Dubai Opera House is a truly massive venue – bigger than anywhere else we've ever staged Mary Poppins. Because of this, we decided to have extra proscenium scenery – essentially creating a false proscenium – soI contacted Denis Bramhall at Unusual Rigging and Engineering LLC, who subsequently supplied all the rigging for the entire UAE run of the show."
Boone had worked with Unusual Rigging in the UK for the previous two legs of the tour and was thrilled to have the opportunity to pull on the resources of the Dubai team for the final run. "The cost savings for us are phenomenal. If you consider that to transport equipment from the UK to Dubai would mean around ten weeks at sea, being able to hire the exact same kit on home turf meant we were saving ourselves ten weeks of rental costs. And while we have used a combination of production riggers from the UK and Dubai for load in, headed by Alex Taylor, when it comes to load out, the Dubai team will take complete control."
"To be able to work with Denis and his team gives us complete piece of mind, both in terms of the quality of the kit and the health and safety regulations that the team comply to so strictly. This is absolutely essential to us," commented Boone.
As with all touring productions, this final stage of the tour threw some new challenges at Boone. "Flying Mary in this venue is very challenging due to the sheer scale of the opera house. The Unusual Rigging team devised an ingenious scheme to fly her over the auditorium taking on board the quirkiness of this multifunctional venue. It is extremely difficult to fly Mary up to the ceiling so they designed and fabricated a landing platform for her, which is suspended between two of the lighting bridges in order to receive her. The rule on this show is that if Mary can't fly, we don't take the show there, so we had lots of meetings with Unusual Rigging to figure out how to make the magic happen." He commented.
Mary Poppins will hang up her umbrella when the curtain goes down at the Dubai Opera House, with the vast amount of set and scenery shipped back to the UK where it will go into storage. "But", said Boone, "we have lots of ideas of where the show will head next."