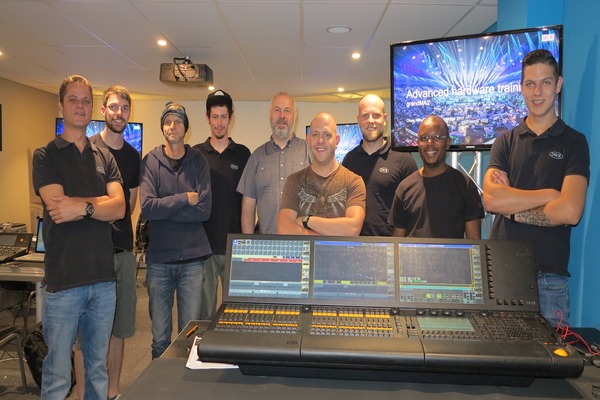 Oliver Ronshausen, Service Manager from MA Lighting, presented a 3-day advanced service training session to the DWR Distribution technical and support team in South Africa.
Ronshausen commented: "I love the MA team, the product, being around the users and distributors and making friends in the industry. The training is to educate and enable people in the field to do repairs but the important thing, really, is maintenance. The feeling I have is that many MA owners don't realize that they have to maintain their consoles in order to operate shows with a reliable product."
"We have learnt a great deal and our sincere thanks to Oliver," said Bruce Riley, Head of the DWR Technical department. "Our knowledge on tips and tricks and prompt problem solving has increased. We have learnt about support, how to listen to problems over the phone and how to swiftly get to the bottom of issues.
"On many occasions, it's one person going overseas and then coming back to share what they have learnt. This time everyone was trained on the same level and it makes life so much better and easier. It also makes the DWR team that much stronger on support," Riley explained.
DWR Technician Nick Barnes said: "We feel like rocket scientists now. The nice thing is that you are learning from MA that have dealt with problems from all over the world and how to fix them. Oliver has preempted us on what to look out for."
"There have been a couple of short tips I've learnt over this time. Button presses to actually shortcut something. That has helped and it was something I didn't know which is nice! The session really was beneficial for me," DWR Workshop Manager Derek Kruger, concluded.