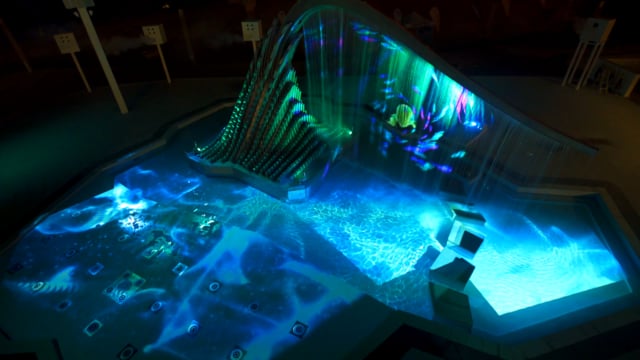 Laservision Mega Media has partnered with Aldar Properties PJSC
('Aldar'), Abu Dhabi's listed property development, investment and management company, to create a bespoke, immersive experience and art installation for the public at Reem Central Park, the AED 200 million, 1,000,000 square foot modern outdoor lifestyle destination on Reem Island.

Laservision created and installed the immersive permanent attraction that features a stunning and modern sculpture fountain, known as 'The Wave', and utilises the latest in entertainment technologies including dynamic fountains, powerful lasers, synchronized LED lighting, underwater projection-mapping and drop-screen projection technology. The attraction, which opened on the 1st of December to the public provides a multi-sensory experience to visitors of Reem Central Park and is a focal point for many ground-breaking productions and events scheduled throughout the year.

Laservision's Underwater Projection Mapping Technology Creates Spectacular Underwater Landscapes Paying homage to the rich coastal beauty of Abu Dhabi, the immersive experiences and activations at 'The Wave' draw upon this theme and feature beautiful marine life projections, dynamic dancing fountains and other stunning activations throughout the day and night.

"We are thrilled and honoured to be partnering with Aldar and providing our world-class entertainment solutions to Reem Central Park and Abu Dhabi," said Mr. Shannon Brooks, Chief Executive Officer, Laservision. "This art installation and immersive experience provides a very unique, intimate and beautiful entertainment offering to visitors at Reem Central Park. The beautiful and rich content used in each activation and experience is produced by our award-winning, in-house creative studios and draws in large audiences throughout the day and night. We couldn't be more proud."
Laservision Mega Media has previously produced internationally renowned shows including Hong Kong's 'A Symphony of Lights' which won the 'World's Largest Permanent Light and Sound Show' by Guinness World Records, and the award-winning attraction and production, 'Wonder Full' at Marina Bay Sands in Singapore, Southeast Asia's largest light and water show.