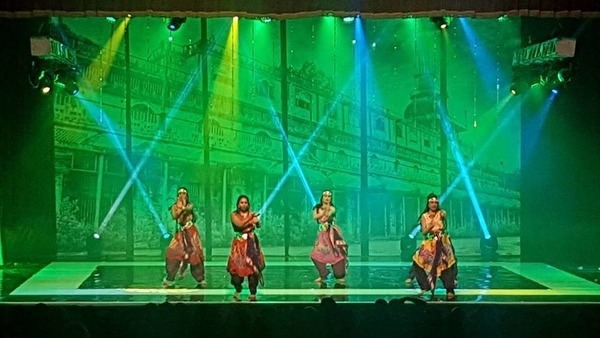 The Jhankaar School of Dance in Lenasia, South Africa kept dance alive with a performance of You're the Fire, accompanied by an intense Shaniel Laloo light show provided by Chauvet Professional Maverick and Rogue luminaires, supplied by JYM Sound and Light.
"We specified the Mavericks and Rogues for Shaniel's show because they provide the intensity needed to match the energy level of this dance," said Vishal Nana of JMY Sound and Light. "At the same time, they gave us the rich colours we wanted to accent the beautiful scenery in this production."
Laloo used 4 Chauvet Maverick MK2 Washes, 6 Chauvet Maverick MK2 Spots, 10 Chauvet Rogue R2 Spots and 6 Chauvet Rogue R1 Beams, flying most of the fixtures 25 feet over the downstage deck. A collection of 2 spots and 2 washes were flown from horizontally oriented truss on either side of the stage, while 6 of the Chauvet Rogue R1 Beams were evenly distributed across the upstage deck and served as aerial effects during dramatic moments of the dance.
An added sense of drama was created during some scenes by hitting the dancers with split beams from the overhead Chauvet Rogue R1 Beams. Laloo also relied on colour to engage the audience. He used the overhead washes in his rig to light the large painted backdrop that depicted an ageing building. At other points, he utilised the colour rendering capabilities of his overhead fixtures to create stunning fire-like visuals that reflected the production's title and theme.
"The response to the light show was very enthusiastic," said Nana. "We had many people tell us how dramatic the lighting looked. Other people posted similar comments on Facebook. The production brought out the drama of the dance."