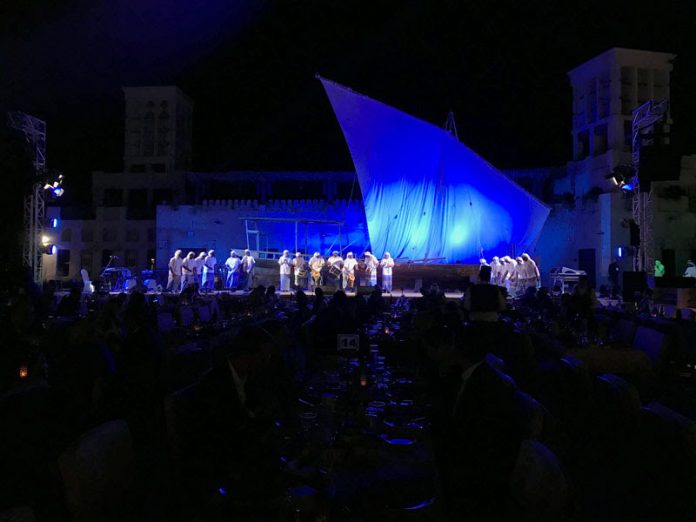 Dubai's much anticipated traditional Emirati experience, Qasr Al Sultan, opened its doors in early 2017 to a night full of entertainment powered by an outstanding audio-visual setup supplied by Procom Middle East. Located in the desert of Jebel Ali, the new venue offers traditional performances, a grand food bazaar, live cooking stations, as well as a museum and a traditional souk.
The opening night boasted with live performances including the guest appearance of the Chehade Brothers – a Lebanese folk band made famous by Music Hall. K-array's Mugello-KH3 sound system was requested specifically for this night. This digitally steerable system is equipped with K-array's signature SAT (Slim Array Technology) that makes up for impeccable acoustic outcome in terms of sound definition and noise pollution cancellation while being easily transportable, self-powered and easy to set-up and dismantle.
For a permanent installation, Qasr Al Sultan chose the Italian manufacturer's Axle-KRX802 system. The powerful sound system, composed of six Dragon-KX12 line array elements and two Thunder-KMT218 dual 18" subwoofers, were flown in two L + R arrays to cover the entire audience area. With the adjustable asymmetrical horn switched to 100°, this speaker system provides excellent wide horizontal coverage and optimal sound experience for this outdoor setting.
As for the front fills, four of the award-winning Anakonda-KAN200+ speakers were installed at the front of the stage. Chosen for their thin flexible shape, these speakers formed an almost invisible strip, filling the areas that the horizontal installation could not cover with the same powerful, impeccable acoustics.
Procom Middle East's partnership with MEERAS on this project was particularly productive; the developer's high demands of quality, aesthetics, audio performance and equipment endurance was matched accordingly by Procom's design, equipment choice and project delivery.
"The cutting-edge technology, impeccable sound and sleek design of the speakers made K-array the audio solution of choice. With several projects in the pipeline in Dubai and the region, Procom Middle East and K-array are set to deliver exceptional AV installations in the coming months." Said Raja Harfouche, Procom CEO.