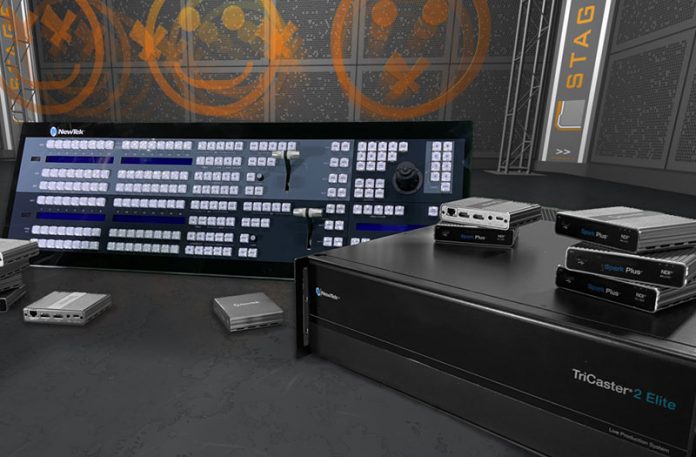 3Monkeys has never professed to be an AV rental company, but with the company's recent investment in NewTek's TriCaster 2 Elite video production platform, Managing Partner, Rudi Buchner, increasingly finds himself fielding the question, 'is the company planning to reposition itself?' "The answer is no!" Buchner stated simply. "With more and more jobs being produced as hybrid events, we saw that it is not efficient to recreate our control room on site for each production – it requires too much setup and integration time with a huge staff and equipment footprint on the ground." Citing what he calls 'the Monkey paradigm', which includes "editorial, content, program and design", Buchner explained that the TriCaster was the ideal solution to boost the company's hybrid event offering. "Reliability, flexibility and an efficient toolset is the foundation," he noted.
Born in the 1980s, NewTek is best known for its TriCaster live multicamera video production systems, NDI software, and legacy products including LightWave 3D animation software and the Video Toaster. In 2019, NewTek and NDI were acquired by Vizrt Group. "The NewTek, NDI, and Vizrt brands share a kindred spirit for software-defined visual storytelling and video production-over-IP," commented NewTek's META Regional Sales Manager, Stefan Wieland. "Together, they make up the most powerful and forward-thinking software company serving the broadcast and professional AV markets in the world today."
At the start of the year, NewTek introduced its new Partner System and the company identified 3Monkeys as an ideal organisation to extend an invitation to. "When I contacted 3Monkeys, they gave us the opportunity to present to them," Wieland recalled. "Two days later, we presented them with a free training session and finally Rudi called to place an order. We are very happy and extremely proud the 3Monkeys is now part of the NDI world and a fully trained and certified NewTek user."
Allowing video, audio, and metadata signals to be shared between devices on standard IP networks in real time, NDI is one of the most widely adopted software-defined IP video standards. "It allows anyone in the world to easily share live video and audio with anyone else over a network at high speed and high quality with low latency," Wieland noted. "NDI is available and in use today on billions of connected devices worldwide."
Describing the software as "a driving force in the recent swing toward hybrid events", Wieland explained why NDI-enabled products such as those offered by NewTek and Vizrt are so useful when it comes to hybrid. "They make it easier and more effective for people to connect video over IP," he stated. "Both Vizrt and NewTek products are highly NDI-enabled, along with hundreds of other third-party products in use by millions of people today. Vizrt's live production platforms are field proven in cloud environments for producing a diverse array of events. As a result, what we're seeing can be characterised more by a blending or blurring of the lines between traditional broadcast, professional AV, and consumer-level video technologies."
When it comes to NewTek's flagship TriCaster 2 Elite, there are few bigger fans of the technology than Buchner. "The system offers high flexibility when it comes to the configuration of video and audio inputs and outputs over multiple signal standards, including remote protocols and remote caller management," he commented, highlighting "the integration of Adobe Cloud products, Animation Buffers, Virtual Set Editor, LiveSet, LiveText, DataLink" as among his favourite features. "The fact that there is one central unit managing the production but we're still able to spread the operation over multiple people is also incredibly advantageous, as it means we can maintain a small footprint and a consolidated production platform while having specialists doing specialised jobs, which ensures production quality."
Another important attribute for 3Monkeys is the integration with the company's existing Ventuz-based real-time 3D infrastructure. Buchner explained that this, combined with the fact that the company's signal needs have changed over the past year, was key to the purchasing decision. "There are still remote callers, we still need virtual environments to hold the production together and we still have to produce and/or manage supporting assets like 2D and 3D computer graphics, presentations, videos, and images to fill the broadcast with life," he revealed.
"The additional factor for storytelling on the broadcast is the live cameras onsite – possibly more cameras, especially PTZ cameras, than you would usually commission on a physical event," he continued. "It was also important for us to have NDI, SRT and RTMP input/output. the Tricaster 2 Elite ticked those boxes and became the product of choice to extend our service portfolio as a link of what we did in the physical space until 2020 and the virtual space from 2020 onwards."
Having taken delivery of the kit at the end of April, the first task for the 3Monkeys team was to integrate TriCaster into its existing production workflows, from 2D to 3D, to motion graphic designers, Ventuz artists and producers. "In parallel, we had to train our audio, video, playback operators, directors and show callers on the device," Buchner commented, recalling a training exercise where the company recreated an event it had produced earlier in the year. "We found out that we can reduce our footprint from seven racks on site to just two," he reported. "We plan to start operating with TriCaster on live projects by the beginning of June."
Having reinvented itself to survive the effects of the pandemic, 3Monkeys is now among the region's major players when it comes to virtual and hybrid events. "Despite this successful transition, we knew that we had to stay agile to keep us going, so we started developing a new service portfolio under the headline 'Hybrid Solutions – Webcast Reloaded' at the end of 2020," Buchner explained. "We started talking about hybrid events with our friends and colleagues at AV rental companies to identify synergies and define requirements, aiming at high-quality output efficiently produced for physical and remote audiences. TriCaster is the last piece of the puzzle."
For the Vizrt Group meanwhile, the future looks bright. "The impact NDI is having on visual storytelling is only just beginning," Wieland concluded. "The pandemic has greatly accelerated the adoption of NDI as the world pivoted to video to stay connected. Look to a future where video is easily shared from anywhere to anywhere, opening creative opportunities that previously did not exist."