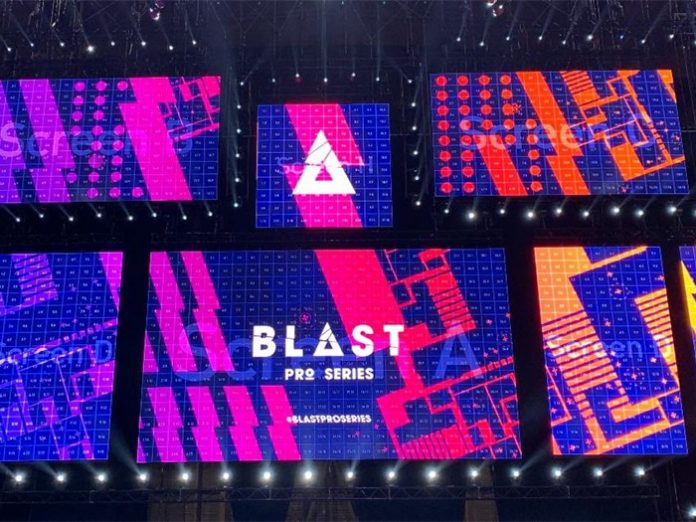 The long-awaited BLAST Pro Series Global Final, one of the highlights of the booming international e-sports market, was hosted in the Kingdom of Bahrain in December 2019, with Green Hippo's Hippotizer Media Servers looking after the complex playback requirements. The event, an action-packed first-person shooter tournament spanning two days, attracted gaming fans from around the world to the 7,000-seat Isa Sports City Arena.
Working directly for the tournament organisers, Copenhagen-based specialist 4K Projects supplied all of the Hippotizers and AV equipment for the fast-paced event. Project Manager Mikkel Samuelsen oversaw the project, along with operators Kasper Lange and Balder Thorrud.
Lange was in charge of lighting, video and design, whilst Thorrud set up and operated the Hippotizer Media Servers. The Green Hippo package consisted of three Boreal+ units, two of which ran content for all the main LED screens while the third served as a back-up. In addition to this, one Hippotizer Amba+ unit was used to feed auxiliary displays around the arena, including digital signage, scoreboards and TV monitors.
4k Projects' Hippotizer and signal system set-up included a NewTek NC1 I/O Module for converting SDI (Serial Digital Interface) to NDI (Network Device Interface), plus a complete 10GB Network for distributing NDI data between servers and preview positions.
The Bahrain show was the last of seven BLAST shows worldwide for which 4K Projects provided their expertise during 2019. The Hippotizer set-up for each was similar, said Mikkel, but the main challenge for this event was the vast array of inputs required for the Hippo Servers.
"On a full show we have 12 live inputs with a combination of direct 3G SDI in 59.95Hz progressive inputs and NDI sources," explained Mikkel. "A typical tournament has three games running simultaneously, which we then input and distribute to all the LED screens." There were 15 screens in total, not including the arena's scoreboards and LED signage ribbons, measuring 450 sq m in total.
The video content was designed by BLAST and Danish media company Timeline. All the video playback was programmed and executed on an MA Lighting grandMA2 console in order to keep in sync with the show's lighting.
Thanks to the versatility and reliability of the Hippotizers, 4K Projects was able to input live game data, including player stats provided by Danish company TV Graphics, and feeds from the player cams, for each of the 30 competitors. "We input all the live tournament graphics which displayed the standings and results from all the matches throughout the day," he says.
4K Projects have been working on the BLAST shows since its conception in 2017 by Danish e-sports company RFRSH. In 2019, they successfully completed BLAST shows in Copenhagen, Sao Paulo, Miami, Madrid, Moscow and Los Angeles, using Hippotizer Media Servers at every one.