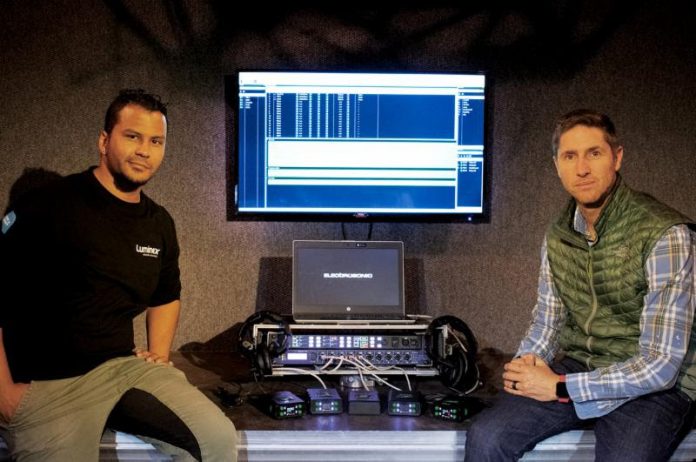 ELC Lighting, manufacturer of the multi-award winning Green-GO digital intercom system for event production and broadcast applications, have announced the appointment of two new distribution partners for the popular Green-GO range. Event Communications Australia takes responsibility for the brand in the Australian market, while Electrosonic SA is appointed as distributor for South Africa.
Sydney-based Event Communications Australia, founded by Peter Cochrane and Frank Madzin, is a respected, specialist provider of professional comms systems for the event production market. To meet the demand for Green-GO across Australia's vast geographical area, the company has formed close working relationships with partners around the country. In addition, they recently recruited Robbi Nassi, a well-known figure in South Africa's production industry, as a Green-GO specialist.
Nassi commented, "We see great potential for Green-GO Digital in this market. It has been extremely well received as if the market has been waiting for such a product for a long time. We've seen success from live events through to broadcast, and we're sure it will continue its growth into sporting events and other exciting potential areas of use." The Green-GO system is easy to grasp, yet offers powerful control and the ability to interface with existing Party-line systems, 2-way radio, 4-wire devices, remote bridging – and all completely scalable. This is the winning solution behind the Green-GO product range. It's the only IP-based event communications system on the market, it's well priced and offers a simple solution for basic to complex communication."
Nassi joined Event Communications from his previous role at Johannesburg-based Electrosonic SA, South Africa's leading distributor of Pro Audio Visual and Live Event products, and made sure to recommend Green-GO his former colleagues. Taking a closer look, they found the technology to be an ideal fit for their distribution portfolio. Electrosonic SA director Bruce Schwartz explained, "IP-based products are the standard in any professional application today, and we have been on this curve for quite some time. We picked up the agency for a leading network and signal distribution product about three years ago and have seen this grow from strength to strength in South Africa. Adding Green-GO to our mix further cements our commitment to providing quality, complementary, solutions-based products, along with the stock and support required by the industry." Schwartz added, "Green-GO is a comprehensive range, suitable for many applications and vertical markets. We see the primary application in the live events space and the theatre market, two areas where we are very strong. However, the Green-GO distribution has already opened up other markets for us, which is fantastic."
Green-GO's Silvio Cibien said, "We welcome Event Communications Australia and Electrosonic SA to our growing family. Both companies are experts in their markets, have a passion for production and put their customers first, all of which makes them ideal partners for Green-GO. We are excited to hear more about the possibilities for customers in these territories." With these latest appointments, Green-GO's global sales network now extends to 42 countries worldwide, with further appointments expected soon.