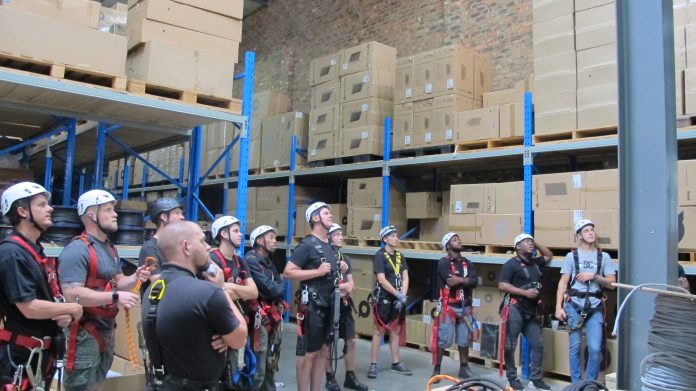 Starting on Monday the 1 st and ending on April the 3rd, DWR hosted and took part in a Rigging Fall Arrest and Safety Training presented by Gravity Group.
Gravity Group Holding in a company that caters for the rigging field from selling equipment to training. Recently DWR's dedicated riggers attended the training to certify them in fall arrest and safety. This is of the utmost importance as it ensures proper technique and action in dire situations.
This course is geared towards optimising safety as there is no work without the riggers and safety ensures that they are safe and the work that is done, is done properly and efficiently.
There is no such thing as a shortcut when it comes to dangerous jobs, and with the techniques being taught and learned properly the jobs become far less dangerous in themselves.
The training was conducted by a certified Gravity trainer, Vutomi Shivambu, and consisted of Fall Arrest techniques. These techniques help when you are rigging and caught off guard as well as implement a safety and rescue strategy. The rescue training was done in segments from the basics to advanced and finally timed. The timed run is the most important as it is the most practical and of course the most critical as it mimics the time restraints that occur in real life.
The DWR team consisted of very experienced riggers, who are always keen to learn and update their skills. They were joined by a few other outside riggers in the training much to the delight of the trainer, Vutomi, who enjoyed having a class this big, a change of pace for him.
"We usually train smaller groups but having a bigger group was good and they were quick to pick up on the training which was really good for me as a trainer," said Vutomi of the class at DWR. Amongst the trainees, there was Megan Levy from Dark Horse Productions. Women riggers are few and far between whilst it being 2019 the rigging field is still very male-dominated and faces like Megan in the training are breaking the mould and notions about the industry. There was no special treatment either highlighting the fact that she is very capable, and that gender equality is as simple as having an open door, representation matters.
Another in attendance was a DWR company director Bruce Riley who is not only immensely experienced but also very hands on still to this day, despite his high ranking within the company.
This illuminates the importance of continually updating your skills as even someone as experienced as he participated and gained from the course.
Training of this kind is more than just certification, it is a means of protection and ensuring the safety of those within the industry, the industry is all about the people and safety ensures the wellbeing of those people.