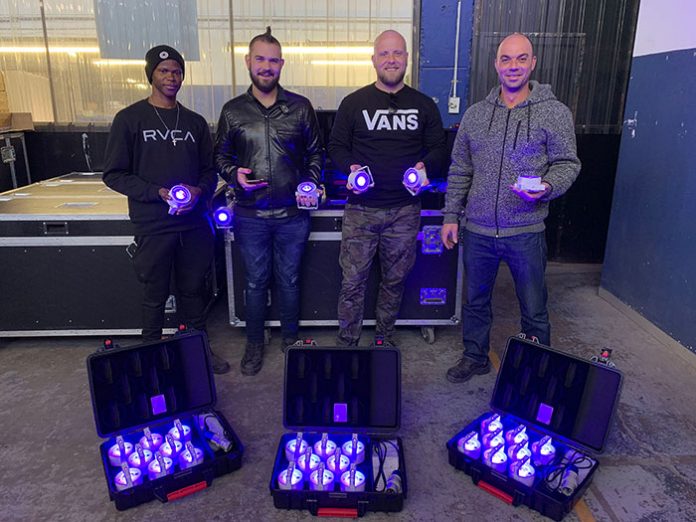 Gearhouse South Africa (GHSA) has invested in Astera, with the purchase of 48 Astera AX3 LightDrops.
Purchased from Astera's South Africa distributor, DWR Distribution, the AX3 LightDrops were needed for a series of high-profile weddings in Kinshasa, Democratic Republic of Congo.
Johannesburg-headquartered GHSA supplied the full technical production for these events in conjunction with, and working for, Israel-based event producer Tali Yacobi. In total, there were nine events related to three different weddings spanning a five-week period, for which it was decided to source all the kit from South Africa.
GHSA's then Sales Manager, Bill Lawford, was tasked with sourcing the kit, and he explained his decision to use Astera. "We researched the options, gathered quotes and decided on Astera after some great recommendations and also the spec which met all our requirements," he stated.
One of the specific needs for the events was table centre lighting for the banqueting and reception elements of the weddings, staged in the brand-new event venue Fête Parfaite as well as the ballroom of the Pullman Hotel, both in central Kinshasa.
This is an application for which the AX3 is perfect, due to its brightness, small dimensions, fabulous colour range, reliability, controllability and long battery life.
"They are a fantastic all-round light," declared Lawford. "The magnetic base is super-practical and they can be rigged in so many different places and provide an ideal solution for almost any scenario."
All 48 AX3 fixtures were delivered complete with charging cases, mounts and diffusers. The whole exercise – from order to delivery – was completed in a few days.
DWR's Tech Support Specialist, Jannie de Jager, was on hand to give a crash course in the set-up and operation of the fixtures, which is extremely quick and straightforward using the Astera App. Then they were all checked, re-packed into flightcases and returned to the airport to catch the cargo flight to Kinshasa.
DWR has already made several major sales for Astera. "There is a real appetite for this technology here," commented DWR's Duncan Riley, adding that Astera fixtures have also been used on some major shows and events including the final of The Voice South Africa 2019.