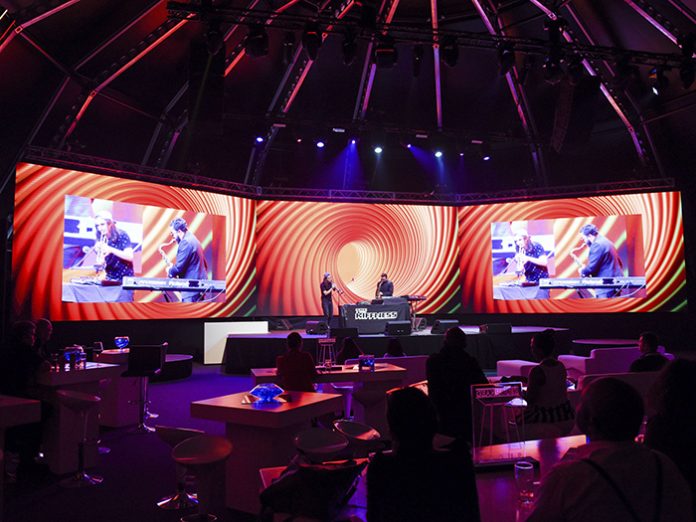 'Welcome to Tomorrow' was the catch phrase used to introduce some of Gearhouse Group's latest technology to 600 of the organisation's top clients and suppliers. The launch was housed in the inaugural build of the Maxi Dome Lite Venue, a bespoke temporary structure designed and built in South Africa by Gearhouse In2Structures, the group's specialist design and manufacturing company.
Maxi Dome Lite is a mid-sized iteration of the In2Structures design range and was used for this launch in a three-bay configuration (27 metres wide by 40 metres long). The design uses 700Mpa steels throughout with easy rigging access and increased strength; in fact the 11.5 tons of equipment hanging in the roof for this event did not use even half of the load capacity available.
A six-bay build of the Maxi Dome Lite will accommodate 700 capacity in banquet style for a gala dinner or 1,450 cinema style for a conference and easily packs down into a single interlink to save time and money. LEDVision's panoramic 23 metre by seven metre high curve of three mm LED screen featured at the event behind the artistes.
AV content ran across all three 16:9 screens or as picture-in-picture with live camera feed during speeches, on a display serving backdrop to the event. LEDVision now holds over 100sq metres of this HD ROE Black Pearl product which can be configured in any number of screen sizes.
LEDVision also clad sections of the interior venue walls with flexible ROE LED Strips. These were incorporated into the overall screen display design. Gearhouse System Solutions' latest product iMira, an ultra slim portable signage display product was used in the greeting area at the registration counter.
A host of musical entertainment was on display throughout the day, and according to the sales team at Gearhouse, the 'technological impact' of the event was 'a great success'.