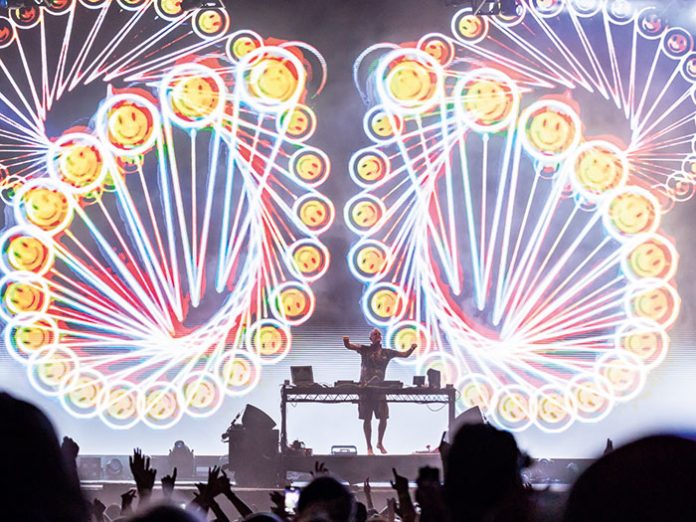 Dubai's favourite music festival, Party in the Park returned to the lawns of the Dubai Media City Amphitheatre with the likes of Fatboy Slim, Richard Ashcroft and Lighthouse Family, making it a jam-packed day of music organised by DGT Events. Up to the task of handling the sizeable production was eclipse Staging Services, who provided lighting, audio, video and rigging.
As well as bringing in international names, the popular family event saw a host of local acts on stage such as The Boxtones, Hollaphonic and The Supernovas amongst others in the lineup. Initially set to be a two-day festival, Party in the Park was condensed to a one-day event as The Kooks pulled out due to a spinal injury sustained by the band's frontman.
The real challenge initially was working around the equipment changes in a fairly tight timescale. Ghanim Williams, eclipse Staging Services' Project Manager, commented, "With a relatively short amount of time available before load-in, we had a fair number of updates to the equipment lists that we had originally spec'd. However, we stepped into soundcheck the day of the event and it went very smoothly."
For the occasion, eclipse's audio team brought in a full d&b audiotechnik system. The main hangs comprised 16 flown d&b J-Series speaker elements per side and six J-SUBs a side, while the bottom end was dealt with by six ground-based J-INFRAs, with four J-SUBs, and eight V-SUBs used as out fills, along with four V7P front fills, plus three DiGiCo consoles – an SD9 at FOH and an SD8 and SD12 for handling the in-ear monitoring systems. The entire system was run off D80 amplifiers. For monitors, eclipse supplied 10 channels of Shure UR4D and eight channels of Shure PSM 1000 IEMs. An Avid S6L console was used in conjunction with an Avid Profile console as the mixer of choice at FOH. The audio department also utilised an Avid Profile for monitors.
The video crew rigged a 6m by 3.6m IMAG screen of 9mm ROE LED panels on each side of the stage. All the LED was fed by a Green Hippo V4 Taiga media server and for video processing, eclipse opted for an Analog Way Ascender 48. A vital part of the show aesthetic was the 15m by 8.5m 4.8mm LED screen, which had a massive impact on fully immersing the audience in the experience. "This was particularly evident with Fatboy Slim's custom content and perfectly timed playback," Williams commented. "One of his tracks played had instructions for the crowd to follow and, with such a large screen behind him, he kept the crowd closely involved throughout."
To save time, all the rigging for the What's On Awards, slated for two days after Party in the Park, was installed in conjunction with the festival installation. Williams explained: "The lighting design and programming for the awards needed to take into consideration that the complete truss with the light attached to it would be flipped 90 degrees."
The lighting equipment consisted of 18 Claypaky Sharpy Wash 330s, 18 Sharpys, 16 Stormy CCs, 16 Martin MAC Viper Profiles, 34 Martin MAC Aura LED Washes, 24 Vari-Lite VL3500 Washes as well as two PAR 64 Long Nose Black fixtures and 24 650W Thomas 4 Lite Molefay blinders with the addition of two Robert Juliat Followspots. An MA Lighting grandMA3 full size was used at FOH for lighting control with a grandMA3 light as back up. Effects included two MDG Max 5000 APS Smoke Machines and three Smoke Factory Tour Hazer 2s.
"It was a flawlessly delivered event and I couldn't have asked for more from the amazing crew, their preparation and combination of skill sets," Williams concluded. "The client was very happy and thankful for our high level of service and our effective response to requests."