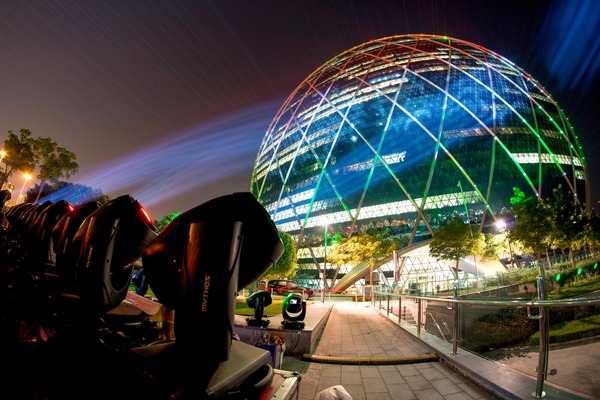 A spectacular light and laser show projected across the Aldar building was a key highlight of the 46th UAE National Day celebrations in Abu Dhabi, supplied by eclipse Staging Services, which specified and installed Laser FX.
On the lighting side, eclipse Staging Services opted for a line of Claypaky Mythos 2 and a Road Hog Full Boar Console while Laser FX gave the audience a marvellous laser beam projection. The raving laser show came to life using a combination of 30w RYGB Phaenon and 10w Green Laser Projectors, creating a magical atmosphere for the event.
"The building is a unique structure and a great canvas to project lighting fixtures and lasers onto. The setup of the lighting fixtures pointing at the building took just one day to came to fruition. We had done this before but this year we took a slightly different approach to the placement of the spots." said Martin Lubach, General Manager of eclipse Staging Services. The main setback for the lighting team was the timing to set everything up at a very short timeframe. "The approval came in very late so we loaded in the day we got the green light and the show day was the following day."
From a laser perspective, Olly Yates, Laser FX technician commented: "What made a difference with the Aldar building was the shape of it. It's shaped like a lens which meant we couldn't just use straight lines onto the building so we had to manipulate the zones of where the lasers projected to, with a curve to each line on the building."
With modern technology, professional experience and proper equipment, the crew overcame this hurdle using the Pangolin Laser Systems Beyond software for the laser control featuring its optimised mesh correction setting to deliver a stable and coherent laser display.
The laser crew also faced challenge in ensuring that none of the lasers projected passed the building during setup and the actual show day due to the Abu Dhabi airport flight path. This was met by mapping the building the night before; all the programming was done in the mock-up studio to pre-visualise the event using a scaled-down drawing and replicating the distance measured beforehand on a site visit.
"I would like to express my true thanks and gratitude to the whole eclipse team who helped in making this a success. We have definitely raised the standard from a creativity and execution standpoint, accomplishing something not seen before. Your professionalism and dedication has made working together a pleasure which we hope to do more of in the future. We truly believe we could not have accomplished this without your help. Thanks again to everyone involved," said Phillip Labib, Managing Partner of qxperience.