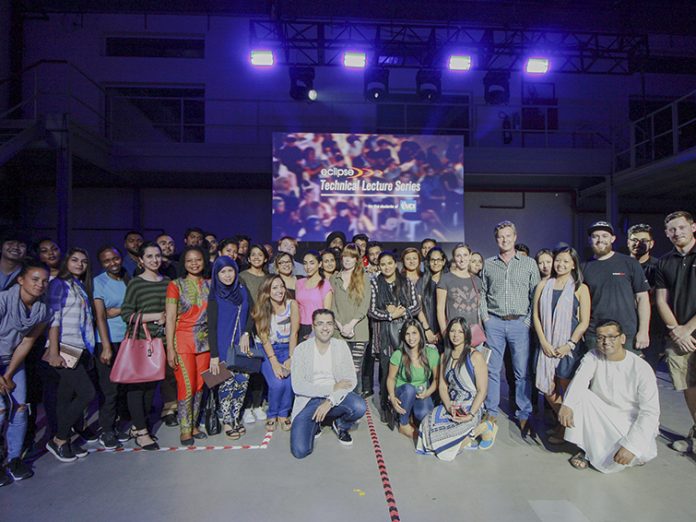 After the success of the previous years' technical seminars, the eclipse experts hosted their 2017 edition.
Over the course of six days, over 70 students from the Institute of Media & Communication (EMDI) attended the eclipse warehouses to participate in the technical lecture series. Since their first lecture series in 2015, eclipse has evolved their seminars to develop with the industry's trends and update the students on leading equipment.
These seminars were very hands on with equipment demonstrations and basic theory on how the equipment is used and configured to produce the range of events eclipse supports. Eclipse technicians kitted out the warehouse to suit each of the technical seminars, ensuring that all the latest equipment was ready to showcase.
As an essential element of their service delivery, eclipse began the technical lecture series with an overview of health and safety best practices. Eclipse's in-house HSE Manager responsible for the team's safety on-site and off, guided the students through the region's best practices and the initiatives eclipse has made to prepare their staff.
In the days after the HSE lecture, eclipse proceeded to host technical seminars for all their services including video, audio, rigging, power, lighting, special effects and lasers.
Eclipse plans to continue their efforts in developing the industry's next generation by advancing with their internship program next season. An initiative by eclipse's General Manager Martin Lubach, the internship program allows students from the UK or locally based to gain insight to how a leading audiovisual supplier supports an event.
"As always, it was a pleasure to host the young professionals from EMDI. The events industry is an expansive and daunting field to enter, and I hope that this experience has given the students enough insight to the technical side that they can confidently advise their future clients in the possibilities of AV." Concluded Lubach.