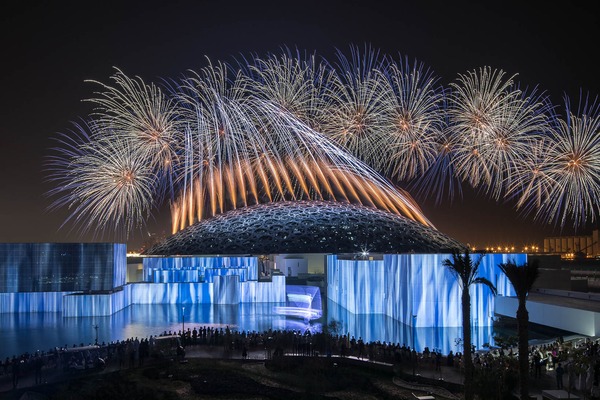 In association with pyrotechnic specialists Groupe F, eclipse Staging Services provided technical support to the audio and video elements of the Louvre Abu Dhabi opening ceremony.
Commencing the UAE's latest cultural project, eclipse Staging Services delivered a full audio, video and power supply project for the opening ceremony of the cultural institution. Colourful events and cultural performances marked the opening day celebrations held in the Saadiyat Island Cultural District on 11 November 2017.
eclipse Staging Services supplied full video mapping solution, utilising 21 Christie projectors powered by 2 Green Hippo Taiga media servers to generate a seamless image across the entire side of the Louvre facing the 'concrete beach'.
In addition to distributing the power, eclipse Staging Services also provided 3 stacks of J Series D&B audio, which were housed in white audio transparent enclosures, which blended into the side of the Louvre to become a part of the projection surface.
The towers took 2 days to build, with the projection and audio infrastructure loaded over the course of 10 hours. While the lining of the projectors and content, made up of 21 individual video surfaces, was a took several days to install.
eclipse Staging Services also supplied 3 125kva generators to power the show as well as all of the associated power distribution requirements. eclipse Staging Services Project Manager Duncan Shortt commented: "It is obviously a totally unique space, which has never been used for an event before, so from start to finish it was really a question of crossing new bridges every day on the journey to delivering the show.
"With the venue still in the transitional period between final owner and the contractor, and involvement with the facilities management company and other independent entities, the production was at times quite challenging, especially when it came to finalising generator and tower locations, and juggling aesthetics with finding parts of the venue that were accessible and had sufficient load bearing capacity for the infrastructure required for the show," Shortt added.
"The establishment of a huge tourist attraction deserves the widest selection of audio, video, and power services to ensure peak performance with the highest-quality designs and installations; I'm thrilled to say that eclipse was chosen to support the occasion," concluded Martin Lubach, eclipse Staging Services General Manager.