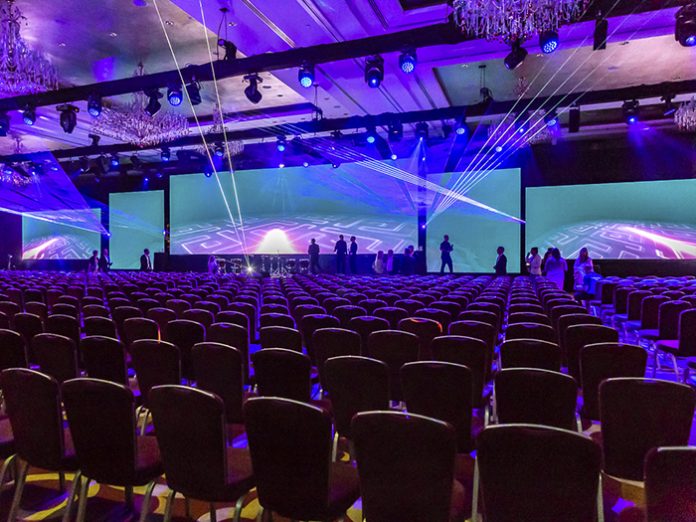 Welcoming hospitality leaders from across the EMEA region, a flagship international hotel brand GM Conference was hosted in October 2018 in Dubai and it called on eclipse to supply all technical elements for the event.
Having brought about in-venue technical production services on a range of interactive and immersive projects, eclipse supplied audio, video, lighting, power and lasers equipment.
Chad Smith, Project Manager at eclipse Venue Services commented: "We had an ultra-wide, ultra-high-resolution LED screen, distributed audio system and an incredibly versatile lighting rig. We also added in lasers with the support of our sister company, Laser FX, to assist with the opening sequences' wow factor and add something new to the standard corporate format."
The biggest component was the video. Using a pair of Green Hippo Boreal media servers for displays, programmed to an MA Lighting grandMA 2 with a Green Hippo Taiga at FOH for content management. Four Analog Way Ascenders, controlled by the Vertige console played a pivotal role in delivering the video requirements for this production where speed and reliability were of the essence.
Versatility was pivotal when putting together the video rig. "It was essential that the deployment of video solutions resulted in the flawless execution of presentations, VT playback and live camera feed. The comfort monitoring was also key, as numerous presenters had individual requirements for their own sessions. We set up a separate rehearsal room which was a mock of the main stage monitoring in order to get the presenters comfortable with the layout before going onto the stage in front of their peers," Smith explained.
The audio element consisted of a combination of Y-Series and T-Series d&b loudspeakers coupled with the punchy d&b V-Series subs, all powered by d&b D80 and D20 amplifiers and controlled by the DiGiCo SD9 mixing console. With the LED screen taking up almost the entire back wall of the ballroom, line arrays were not possible. The main PA system used was four flown Y7P, which ensured a very powerful full range system with adequate and precise dispersion. The audio department also deployed an array of four d&b V-Subs out wide and two d&b Y-Subs in the centre of the stage for sub reinforcement. For communications, the crew chose a mixture of Clear-Com's FreeSpeak II wireless comms and HelixNet systems.
Looking at the highly visual resulting set with an impressive widescreen look, Chad concluded: "This was a large production to put together in 28 hours from the initial load-in until we had to be ready for the first round of rehearsals. The pre-production planning is always key to ensuring a well-delivered show, in any venue, but that's not nearly as important as having the right people on the job. The crew that delivered this production worked tirelessly during the show week and this just demonstrates the level of dedication, professionalism and absolute passion for this industry which is a testament to the crew's capabilities who helped ensure the event was a tremendous success."