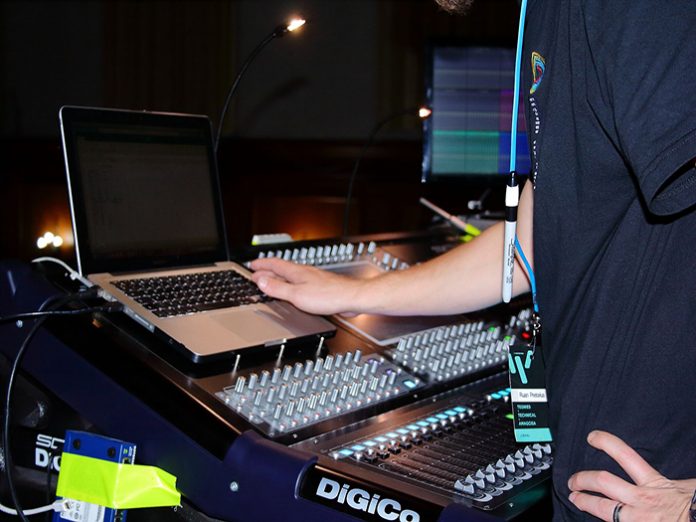 As Stellenbosch University celebrated its 100th birthday, the 19th SU Woordfees took place from the 3-12 March 2018. For the very first time, DWR Distribution was part of the festival, sponsoring MA Lighting dot2s and a DiGiCo SD12 console.
When it comes to presenting excellence in all art disciplines, SU Woordfees has to be commended – from fine art to outstanding drama and music productions, debates and the written word. Presented by the Stellenbosch University, SU Woordfees brings the entire town on board and before long, restaurants, schools, the city hall and theatres such as the HB Thom, become home to lovingly produced creations.
"In the current South African economic climate, festivals do not have the financial backing they deserve," said Duncan Riley of DWR Distribution. "Technical companies are often willing to work alongside the organisers for very little income just to keep the arts alive. This year DWR approached event companies involved and asked if we could also help carry the load by sponsoring consoles and providing a team on site for technical support."
DWR Distribution supplied 4 MA Lighting dot2 cores, 1 XL-F and 1 dot 2 on PC with DMX King. In addition, a DiGiCo SD12 and D2 Rack were supplied and used by Eastern Acoustics Audio Engineer, Johan Griesel.
"Woordfees is, and was a great Fees," said Johan Griesel. "This is Eastern Acoustics third year and it gets better every year. We were involved in the Big Outdoor concerts at Coetzenburg where Woordfees ran two outdoor stages – as one stage finished, the second took over. It was a great three days from POPS to family entertainment."
Eastern Acoustics also ran Rhenish and the Spier Amphitheatre. "I was given the DiGiCo SD12 by DWR Distribution for use at the Spier Amphitheater which ran from the 3rdto 11th March," said Griesel.
"What a joy to mix on this console. Solid, great sounding and easy to work on. Rhenish was a tough venue for us as they do two to three productions a day, and for every production, all the lights need re-focusing and you have to use a ladder to do that. Long hours for our crew, and I think our two crew members are still asleep, two months later, Woordfees ran a variety of concerts at Spier from Big Band Brass to Stef Bos, and it ran like clockwork, thanks to Brechmari van Wyk (Technical Manager) and Saartjie Botha (Director) of WoordFees. I most certainly hope that Woordfees goes from strength to strength and that more and more people attend this great festival in Stellenbosch."
Gareth Chambers who represented DWR Distribution along with colleagues Bradley Bruchhausen, Jethro Jordaan and Michael Taylor-Broderick agreed. "The festival was well attended. While there was a couple of first time dot2 users, I knew most of the technicians operating the shows and they were very happy to work on the MA platform."
For Michael Taylor-Broderick from DWR Distribution, who is also a respected lighting designer in South Africa, Woordfees was one of the best festivals he has ever attended. "It offers a platform for so many art forms and the standard is exceptionally high across all genres," said Taylor-Broderick. "Culturally, it was exciting and heartwarming to see so many Afrikaans practitioners producing incredible work. The work presented was challenging and far from the commercial which sets it apart somewhat from the standard Festival model we are accustomed to."
What also stood out for Taylor-Broderick was attending a talk co-presented by Ismail Mohamed, CEO of The Market Theatre. "Ismail Mohamed spoke about the role of festivals in our current economic and political climate. It was interesting to hear him outline the responsibilities that are meant to fall on the shoulders of festivals; in this regard, Woordefees seems to tick many of the relevant boxes."
Bradley Bruchhausen concluded: "Woordfees was amazing and well run. It was spread over a vast area and ran smoothly. We were grateful to be part of it."