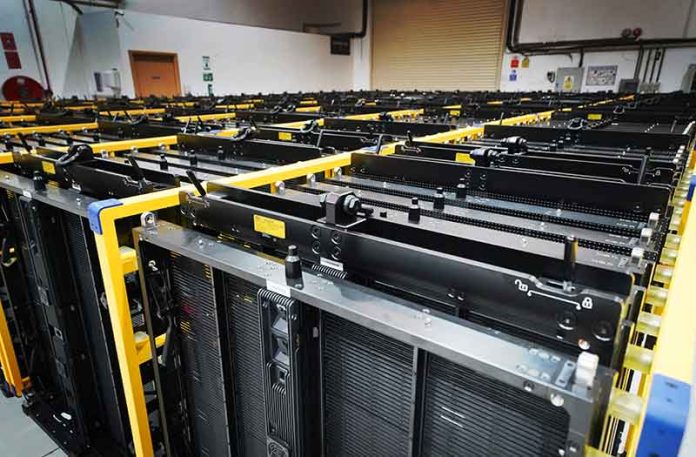 Creative Technology (CT) has become the first in the Middle East to invest in ROE Visual Vanish V8T LED.
"We are thrilled to be the first in the Middle East to introduce the ROE Vanish V8T to our clients with a substantial investment of 720 sq m," commented Andy Reardon, CTME's Managing Director. "This investment underscores our commitment to providing our clients with the latest and most innovative solutions in event technology."
With its remarkable 50% transparency, the cutting-edge LED panel marks a significant advancement in outdoor display technology. Designed with ease of use and transport in mind, the V8T features lightweight touring frames and a dolly system that enables swift on-site installation and efficient transportation. Enhanced durability is achieved using Glue on Board (GOB) technology, adding a layer of protection from impact, UV and dust to minimise the risk of damage in demanding environments.
CTME's Head of Video, Tom Stocks, is delight with the purchase. "This state-of-the-art LED panel is a standout performer in outdoor settings," he stated. "Its exceptional brightness, remarkable viewing angles, and curve capabilities set it apart, making it the ultimate choice for a diverse range of creative applications in large-scale outdoor events and concerts."
Grace Kuo, Sales Director for ROE Visual, added: "The Middle East's entertainment and event industry is vibrant and fast-paced. Reaping the full potential of this growing market, ROE Visual and CTME are investing in high-quality LED products to offer clients the best possible solutions. Following the great success of the Qatar World Cup Opening Ceremony, CTME invested in the ROE Visual Vanish V8T series and with the opening of our new MEA office, we look forward to exploring further developments together."
Reardon concluded: "As the Q4 season approaches, demand for the ROE Vanish V8T is already surging among our clients. Its exceptional capabilities are poised to elevate the impact of outdoor events and redefine the standards of excellence in the industry."