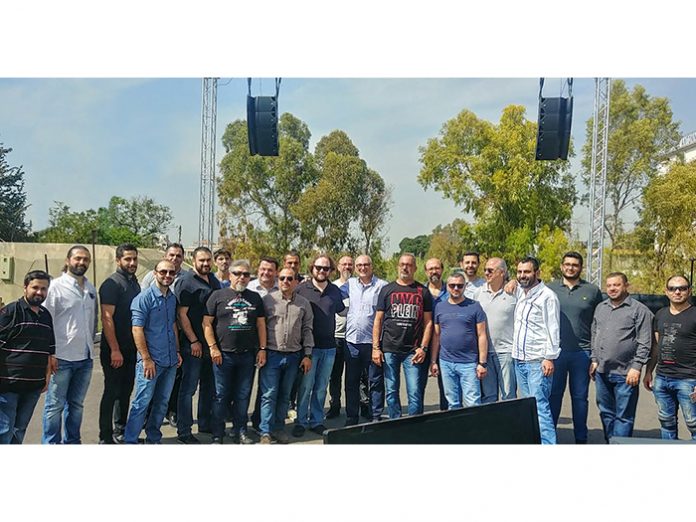 Further expanding its Middle Eastern reach, Clair Brothers has scored another victory by adding Boujikian Bros to its growing list of distributors with pro audio expertise and far-reaching contacts in important emerging markets.
Established in 1984 as a supplier of a wide range of electronics accessories, Boujikian Bros refocused its attention towards audio, lighting, rigging, staging, and more when they saw strong potential with the fast-growing Lebanese market, as well as other expanding markets in their greater region.
Gary Boujikian, President and General Manager of the company, commented: "Our goal is to provide the smartest solutions using the highest level equipment and gear to a wide variety of engineering projects and applications in all regions around the Middle East and Africa. Shifting our company's focus was definitely the right decision. The potential in these regions is seemingly endless."
Boujikian Bros serves educational and religious institutions, corporate, governmental, and military sectors offering a wide range of products and services with dedicated customer care and support.
"The quality products we provide are central to our success. It's why when the opportunity arose to represent Clair Brothers we didn't hesitate. Loudspeakers don't get any better than what Clair Brothers designs and manufactures. And the people at Clair Brothers couldn't be nicer or easier to work with. I could tell right away when we first met and signed on at PL+S 2017 in Frankfurt that this relationship would be a smooth one."
During 2018, the pair has made a noticeable impact in the marketplace. Most recently, on a historic multi-country demo tour through Europe and the Middle East, the relationship has grown even stronger. Josh Sadd, vice president and chief engineer for Clair Brothers, hosted a product demo of the kiTCURVE12+ Line Array System, 1.5AM+, 8CX-P-100, and 12Sx in Beirut for an audience of eager industry Pros and interested potential customers.
"I had heard that the Lebanese have a taste for quality and high standards in audio and it was very evident in the turnout for our event. It was great to meet the many people who attended."
Boujikian Bros sells and distributes the kiTCURVE, C-Series loudspeakers with customizable TrueFit Technology, as well as other stellar product innovations such as the 1AM, 1.5AM Series, the conveniently stackable S2 PA System, and more.
Boujikian concluded: "The winning combination of a great team, unparalleled product quality and innovation, highly-respected reputation and rich history, makes Clair Brothers a global force to be reckoned with. We're delighted to be their partner. The future is bright."