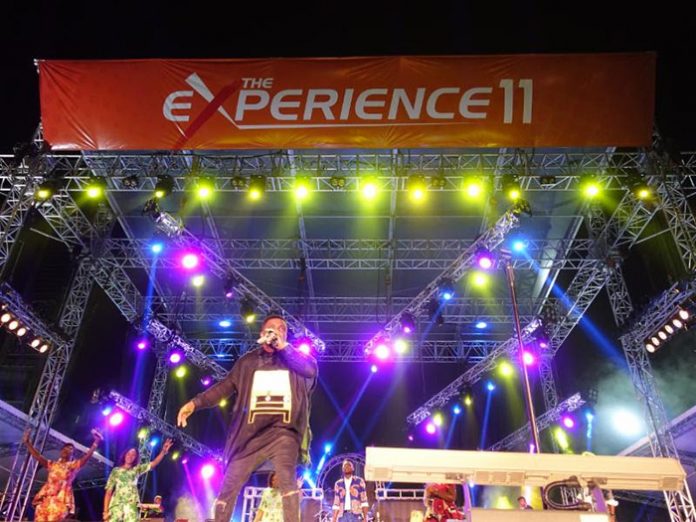 Two of Avolites' most popular lighting control consoles, Sapphire Touch and Tiger Touch II, were selected to deliver the multi-layered, diverse lighting for 15 of the best gospel music ministers from around the world during Nigeria's mammoth praise event The Experience 11: Revealing Jesus.
Reported to be Africa's largest concert with revellers upwards of 500,000, The Experience has been running since 2006 and is produced by vibrant, multi-ethnic church House on the Rock.
Stephen Davies of UK-based Subfrantic Production Services, longstanding technical supplier of the church's London branch, has been involved with the gospel extravaganza for the past four years. Each year he selects Avolites to handle the increasingly large lighting concept.
"Choosing Avolites to deliver The Experience's lighting is always an easy decision to make," said Davies. "We have a long history with the brand and for every LD we work with it's their primary choice of desk."
One such lighting designer is Graham Roberts, who programmed the extensive looks for the event.
"Having a Sapphire Touch at FOH is always my first choice," he said. "The dual touch screen allows quicker access to more pallets and media server controls. The addition of the motorised faders allowed allowed more playbacks to be utilised over pages, which meant I could make quick and unscripted changes even more easily."
Roberts' design featured more than 200 lighting fixtures, over half of which were powerful Claypaky moving heads. Using the advanced software features of the Avolites Sapphire Touch, he created a series of bold, bright and colourful looks that worked alongside the music to immerse the crowd in praise and celebration.
"The new features in Key Frame Shapes make programming shapes across multiple types of fixtures a lot easier," said Roberts. "One addition that is great is the ability to add halos, which makes it easy to keep your programming looking neat and tidy. With each update the Titan software gets more and more feature rich, allowing me to create more intricate lighting designs, all whilst retaining the easy to use interface."
As well as being impressed with the Titan software, Davies and Roberts commend the consoles' ability to function in Nigeria's sweltering climate:
"An issue with Lagos is the excessive heat and 90% humidity, however we noticed that the upgraded touchscreens on the Sapphire Touch kept up with the changes in temperature and bright sunlight."
"The Experience is a truly unique event that Subfrantic is very proud to be a part of. It's taken a lot of time and effort from a lot of people including ourselves, House on the Rock, and the local equipment suppliers to get to the point that it works as smoothly as it does, and having reliable equipment is an enormous part of that. Avolites consoles offer peace of mind in what is otherwise an incredibly stressful and hectic build and event. We wouldn't consider using anything else," he concluded.