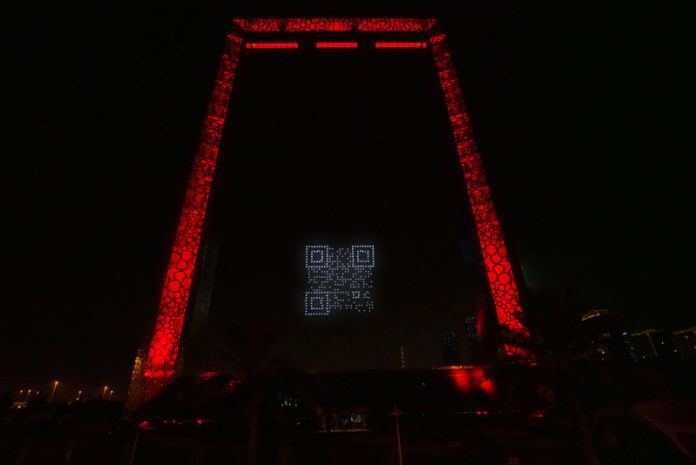 AO Drones, part of the AO Creative stable of companies, launched a state-of-the-art, 600-strong fleet of drones inside Dubai's 150m-high landmark Frame structure, for a campaign to announce the July unveiling of the UAE's first Nike Jordan Concept store.
Specifically designed to be filmed for a Nike Jordan digital and social campaign, the event saw the 600 AO drones programmed to generate a four-layered, three-dimensional, rotating facsimile of the famous Jordan 'Jumpman' logo. The logo then morphed into a fully scannable 3D QR code, enabling potential customers to discover more about the store.
Due to COVID-19 restrictions in Dubai, the client could not make the show public, so the activation was designed to be filmed from the outset.
"The huge Dubai Frame provided a spectacular illuminated border for the Jumpman logo and QR Code," said Marco Niedermeier, Show Producer at AO Creative. "We animated the Jumpman icon with strobes and colour but creating the figure in 3D was challenging – especially as the object was presented in four layers and then rotated 360°."
When the team turned the images 360°, it meant that everyone in the park and surrounding apartments could see and scan the code.
In addition to the drone show, AO Creative employed three camera drones to film and photograph the event. The resulting video was then edited for a Nike Jordan digital and social campaign across the brand's communication channels.
AO Creative also delivered full event production, including the lighting execution, which added drama and atmosphere to the drone formation, alongside power and data distribution and a grandstand platform for the 100 invited guests and influencers.
Before the show could go ahead, the AO Drones team had to complete a detailed feasibility study due to the location of the Dubai Frame, with a major highway and airport nearby. This meant that the team could not fly the drones higher than 120m and the design had to be created with pinpoint precision for the code to register on phones.
The drones were guided by GPS, using software that enables live communication between each object.
Environmental considerations were also key. Luckily, it was below 40°C and wind levels were low. In addition, planning complex drone shows come with their own logistical challenges.
"For permissions, we had to contact the Dubai Civil Aviation Authority where our drones and pilots are registered," added AO Drone's Pilot in Command, Kevin Niedermeier. "The DCAA gave permission for the event, as did the traffic authority, the police, and the government."
With everyone's approval and Nike happy with the results, the demand for such shows is on the rise. "We've learned from the market – especially here in the Middle East – that the quantity of drones our clients are asking for exceed 300 to 500 per show," Niedermeier revealed. "That's why we have augmented our fleet to 1,000 and are planning to increase to 2,000 by the fourth quarter of the year."