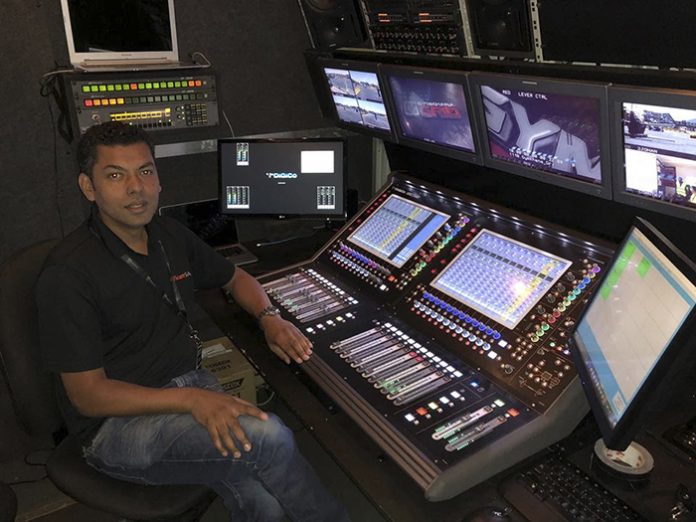 Alfacam SA, industry supplier and operator of HD TV facilities for events and shows in the outside broadcast market in South Africa, has recently invested in a DiGiCo SD12, purchased through DWR Distribution.
Alfacam is no stranger to the DiGiCo platform. In 2013, owner Greg Nefdt purchased OB16, now fondly known as OB1, with all associated equipment from Euro Media Group and founded Alfacam SA, operating out of Bush Hill Estate AH in Randburg. Upon arrival, OB1 was kitted out with a Soundtracs DPC-II and a DiGiCo D1. The consoles had worked perfectly for many years on numerous successful gigs, but Alfacam's Quentin Davis knew it was time for an upgrade.
DWR has been dealing with Alfacam for the past year, assisting with possible DiGiCo solutions and, although Davis had many different options available to him, his heart was set on DiGiCo from the outset.
"I first saw a DiGiCo SD7 on the live outside broadcast for the Opening and Closing Ceremonies of the London Olympics in 2012, where there were 2 mirrored consoles" Davis recalled. "If they were being used for the Olympics, I knew they had to be good."
Having a good sounding desk was imperative for Alfacam, as was future proofing the OB van.
"This was the reason we decided to go with the SD12," said Davis. "But as well as the product is amazing, another deciding factor for the purchase was knowing we would be looked after by DWR, which has amazing, talented people such as Kyle Robson and Duncan Riley, as well as its other personnel. The attention to detail and the service offered far exceeds my expectations. 1 phone call to DWR and the support is instantaneous."
When the DiGiCo SD12 was installed, Davis was immediately impressed by its audio quality.
"I played a couple of tracks that I know really well in the van and straight away I could hear a difference," he said. "The sound quality of the pre-amps on the SD12 is just superb. The progression is natural because everything in the workflow is consistent; it feels so comfortable. The other beauty of these consoles is how flexible they are and the fact that we don't' have to go into 101 menus to achieve what we want; in live events and broadcasting, time is always of the essence, so ease of use is vital."
The day after the DiGico SD12 was installed, it was put to work at the Gymkhana GRiD at Carnival City, where the Alfacam team learnt the true power behind their purchase.
"The SD12 is an absolutely smooth console that can really take a beating," laughed Davis. "The high sound pressure levels of the cars at the event was a concern for me. I decided to drive the channels quite hard to see just what would happen from the pre-amp down the line to the outputs. I also drove the compression fairly hard and was so impressed how smooth and subtle it was. At no stage did I feel that I was taking it to a point that the SD12 couldn't handle. It really has underlined that the SD12 is exactly what we need."